If you want to document your travels on social media nowadays, you need to have an idea of the most instagram-worthy locations in your destination. Lucky for you, I've done the research, and I have this great list of the most Instagrammable places in Las Vegas!
No matter what type of photo you're looking to get in Las Vegas, this list is sure to cover them all. From the renowned Las Vegas Strip to the vibrant city's bustling nightlife, there are endless opportunities to capture unforgettable Instagram photos in Las Vegas. So grab your camera and let's virtually explore the city, and create your epic list of photo spots to capture when you visit Las Vegas.
Here is my list of the 25 most Instagrammable places in Las Vegas!
Affiliate links are used in this post. For more about affiliate links, check out my Disclaimer Policy.
---
1 || "Welcome to Fabulous Las Vegas" Sign
The Las Vegas welcome sign is probably the most iconic photo op you can get for your instagram feed. If nothing else, this is the one photo that is a must-have for your trip to Las Vegas.
The sign embodies the essence of the city of Las Vegas, through its vibrant colors and glistening neon lights. The sign also manages to have a historic kind of charm, with it's design also calling back to the city's history with gambling and casinos!
2 || Bellagio Conservatory & Botanical Gardens
The Bellagio Hotel and Casino has a conservatory and botanical gardens that offer the floral backgrounds of your Instagram dreams. Seriously, the aesthetic wonder of these gardens are UNREAL.
3 || Bellagio Fountains
While the Bellagio fountains are picturesque during the day and a great option for your Instagram photos, you might also consider snagging a photo during the evening water show. However, keep in mind that the spot gets very crowded around this time, so you'll have to be strategic about getting a good photo.
4 || Bellagio Terrace
The Bellagio Terrace is a popular photo destination for weddings, and it's easy to see why! The view is absolutely beautiful, with the Eiffel Tower replica in the background, the white, fantastical wrap around railings, and the Bellagio fountain down below.
This is definitely a prime Instagram worthy location in Las Vegas if you're wanting a more luxurious look to your feed.
5 || LAGO by Julian Serrano
This restaurant at the Bellagio is another luxurious option for your Instagram, especially if you like sharing photos of where you're eating in different destinations. The interior is very crisp and white, with many large windows facing the fountain and the Eiffel Tower replica across the street.
6 || The Luxor Sphinx
The Luxor Great Sphinx is an renowned Las Vegas photo spot that is guaranteed to make for an engaging Instagram photo. This majestic Sphinx, inspired from the Great Sphinx of Giza, is 110 feet tall. It's size and beauty makes capturing an incredible Instagram photo an easy task!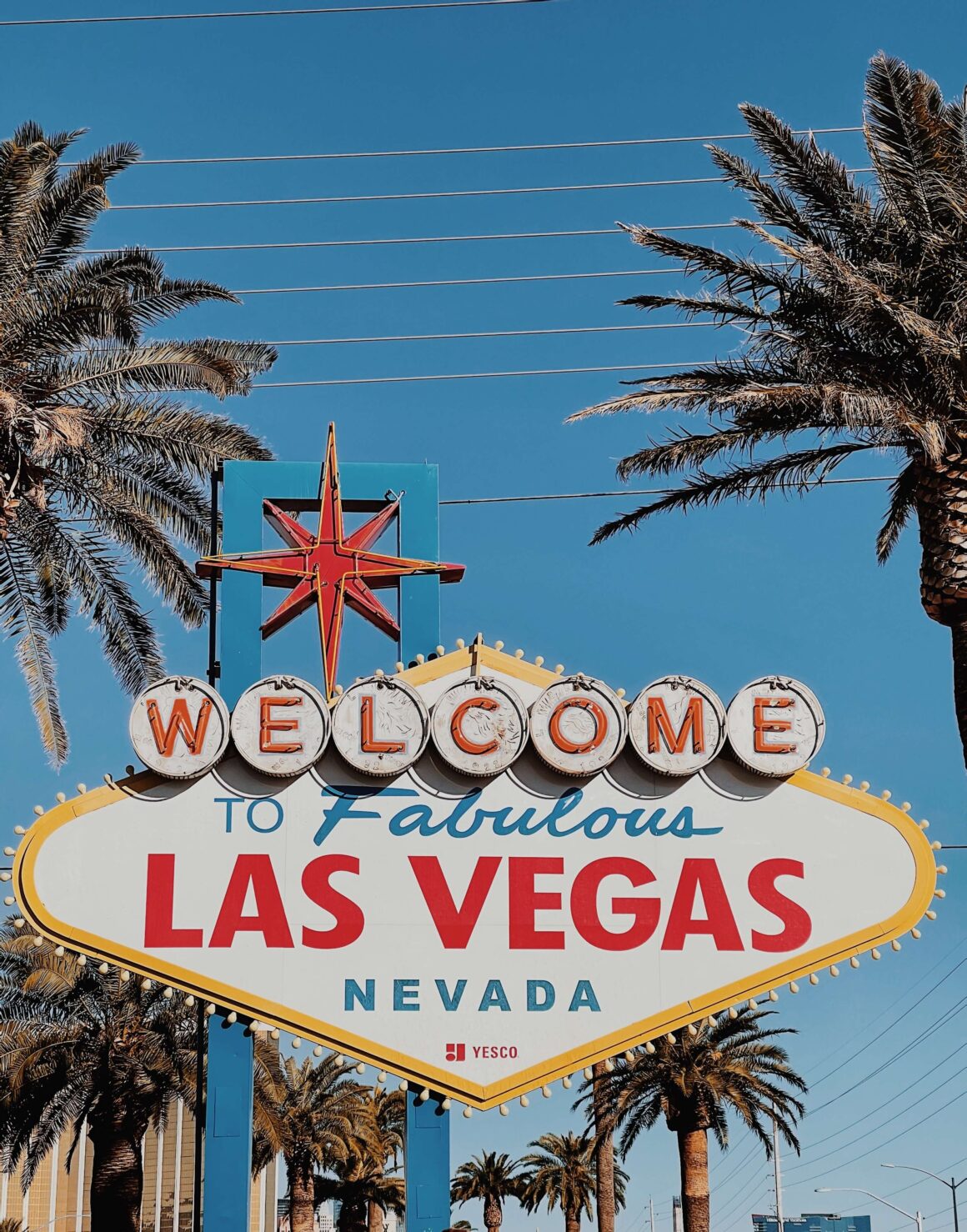 7 || Excalibur Hotel & Casino
Take your next Instagram photo in front of the Excalibur hotel that is constructed to look like a medieval castle from Arthurian times. Take a photo from the resort style pools. Or perhaps take a photo on the bridge leading into the hotel, with its castle turrets rising high above you in the background!
8 || New York, New York – Las Vegas
The New York, New York Hotel & Casino emulates the iconic New York City skyline in design. Featuring replicas of the Statue of Liberty, the Brooklyn bridge, and Grand Central Terminal, this hotel gives you unlimited opportunities for Instagrammable photos!
9 || The Paris Hotel, Eiffel Tower – Las Vegas
The Paris Las Vegas Hotel & Casino is the closest taste of Paris that you can get while in the states. The hotel's Parisian design is so immersive and features iconic monuments from the city of love.
From the Eiffel Tower, to the Arc de Triomphe, to La Fontaine des Mers, the hotel goes all out to provide you with countless Instagram worthy photo opportunities. The most iconic photo worthy spot is at the hotel's entrance, below the Eiffel Tower's legs. (Make sure to have the cameraperson shoot from below, tilted up toward the sky, for the most eye-catching photos!)
10 || The Paris Hotel, Arc de Triomphe – Las Vegas
At the Paris Hotel, there is a two-thirds sized replica of the Arc de Triomphe that you can use as a backdrop for your next Insta-photo. The beautiful architectural replica is makes for an effortlessly beautiful photo.
11 || Linq Promenade
The Linq Promenade is another Instagram worthy location to keep in mind for fans of neon pink. You can find your pink fix at the Flamingo Hotel in this area.
The outdoor area also has a walkway that features the High Roller observation wheel in the background, which is a great photo opportunity for everyone.
12 || The Venetian Stairs
The Venetian stairs are a stunning architectural feature on the Vegas version of the Rialto Bridge, which spans the gap between Madame Tussauds and the second level of the iconic Venetian Hotel.
13 || The Venetian Lobby
The Venetian lobby is so grand and opulent that it'll take your breath away. This long hallway features stunning art across its ceiling and has beautiful columns spanning its length.
However, with beauty comes visitors. Because of this, it can be hard to find a time of day to photograph if you don't want anyone in the background. Exercise extreme patience if that is your goal for your photo.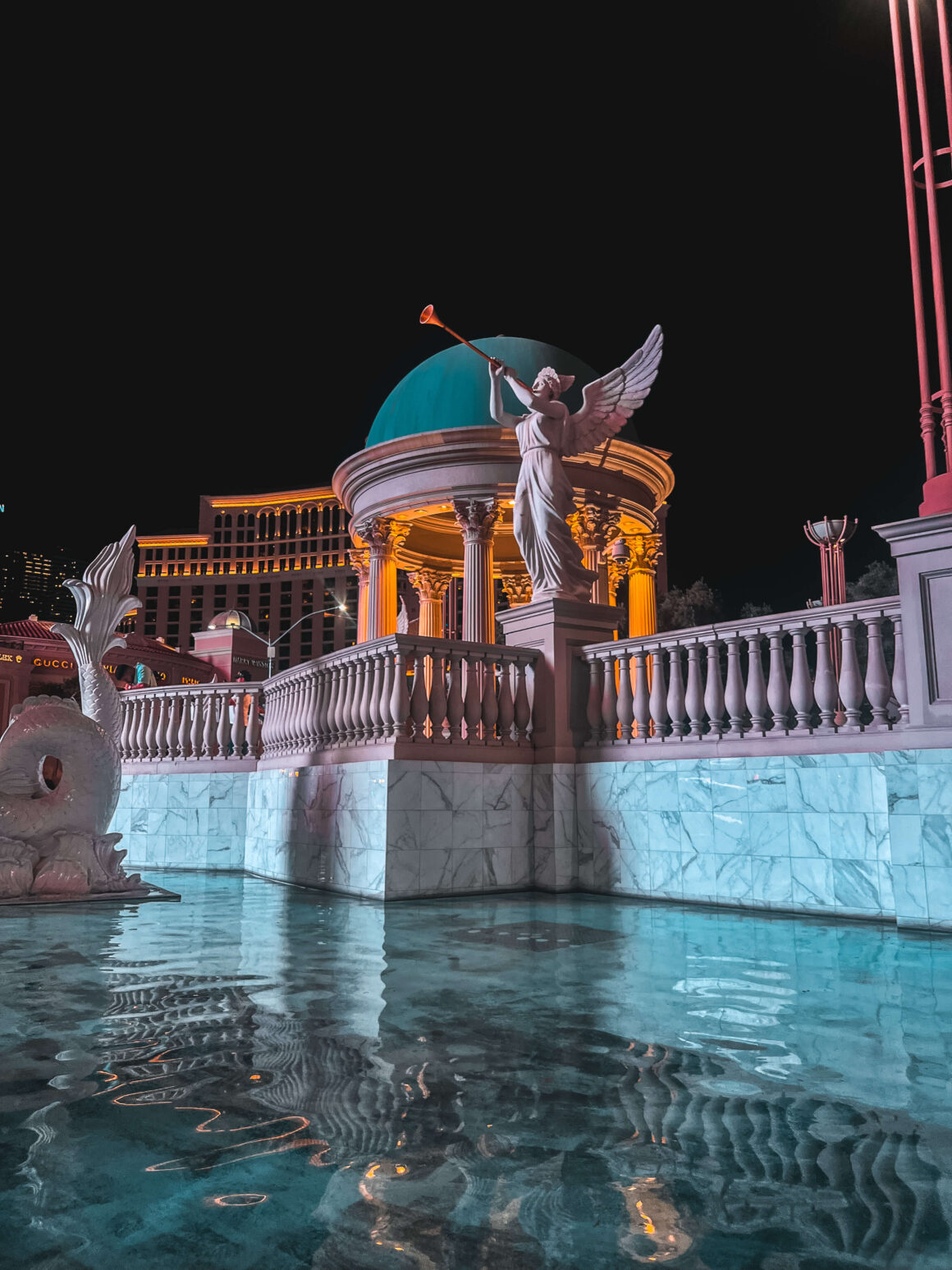 14 || Gondola Ride at the Venetian
Take a gondola ride at the Venetian, and go under the Rialto Bridge replica, for incredibly aesthetic photo opportunities that are sure to make your Instagram! Book your gondola rides here!
15 || The Rialto Bridge
Pose on the Venetian outdoor bridge, modeled after the Rialto Bridge in Italy. It does overlook the "river" where the Venetian hotel offers paid gondola rides, providing a beautiful backdrop for your stunning Vegas photos.
16 || Trevi Fountain – Las Vegas
Take a quick trip to Rome by sitting on the ledge of Las Vegas' replica of the Trevi Fountain! This is definitely one of the most Instagrammable places in Las Vegas, so do think about getting there early if you're wanting a photo without other people in the frame.
17 || Mayfair Supper Club Entrance
The Mayfair Supper Club is located inside the Bellagio and has a beautiful glass entryway bordered by hundreds of bright red roses. This is an elegant and gorgeous Instagram photo opportunity for you, and you shouldn't miss it. But make sure to remain respectable of the diners inside, and the workers maintaining the front entrance.
18 || Retro Vegas Sign
If you're wanting a more authentic photo that showcases the history of Las Vegas and its world-renowned gambling scene, definitely make a trip to see (and photograph) the vintage Vegas sign. This sign is located on Fremont Street, so make sure to capture the other iconic sights on the street while you're in the area.
19 || Cosmopolitan Chandelier Bar
You'll definitely have to have some talent with editing in low lighting and neon colors, but the Cosmopolitan Chandelier Bar is a great spot for unique Instagram photos. Stand on the white wrap-around staircase with the dangling, neon purple chandeliers behind you and snap your next photo for socials!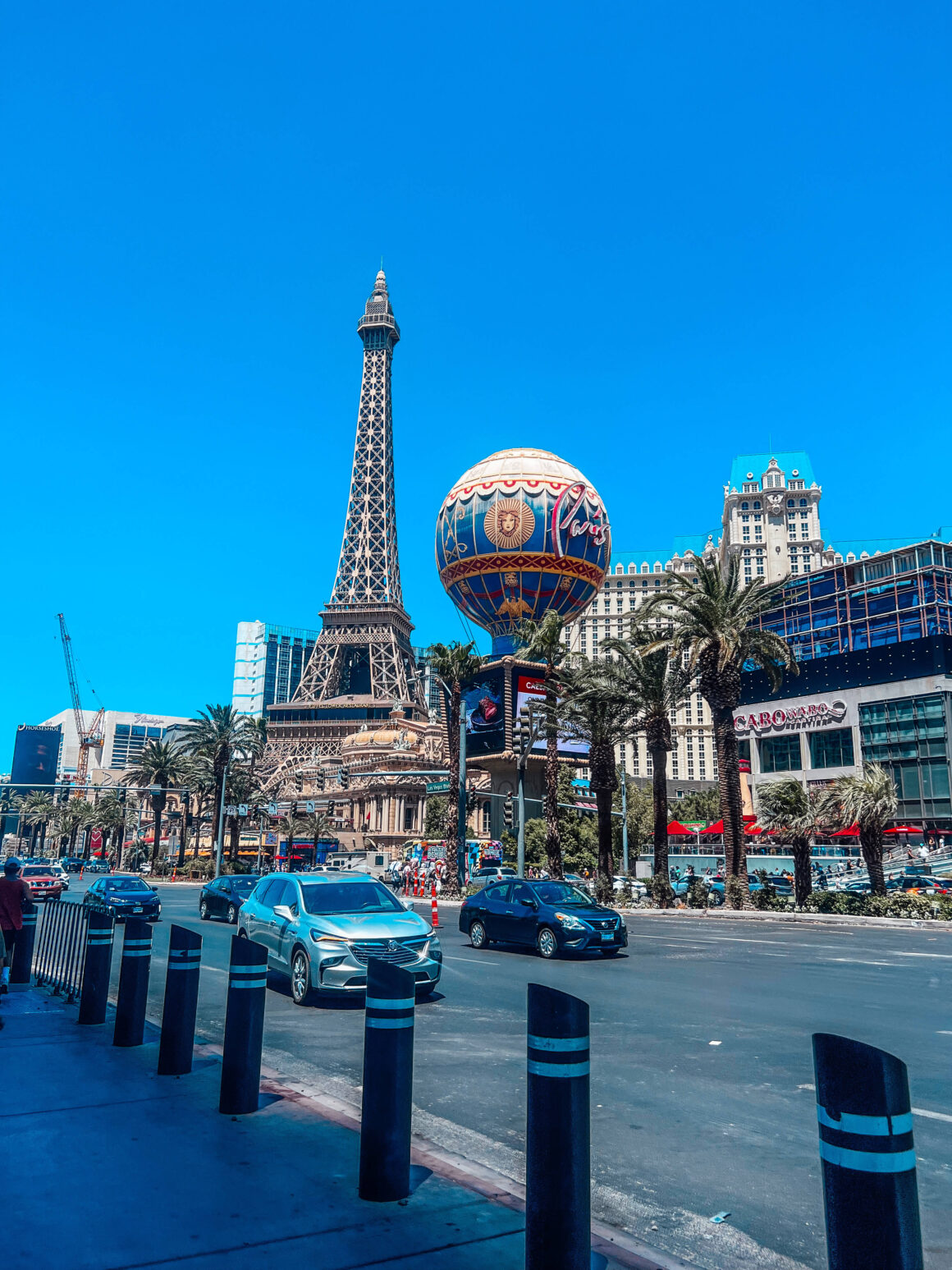 20 || Neon Museum
The Neon Museum gives you your pick of neon signs to pose in front of for your next Instagram post. However, you need to research the museum's strict rules on photography. Last I heard, actual cameras aren't allowed, and only still photography can be done with your phone.
21 || The Empty Club
At first, this doesn't seem like it would be one of the most Instagrammable places in Las Vegas… However, this is the perfect location for travelers who LOVE pink photo opportunities.
This pink building might be a little out of the way for most itineraries, but it's vastly underrated as an Instagram hot-spot and will definitely differentiate your content from the millions of others who are posting their Vegas photos!
22 || The Steps at Caesar's Palace
Modeled after the steps in Rome, Italy, the steps at Caesar's Palace do their best to impart at least a fraction of the mesmerizing beauty of the real things. These steps are definitely an ideal backdrop for Instagrammable photos.
23 || Wynn Las Vegas
Wynn Las Vegas is a luxury resort style hotel that serves Instagram-worthy photo opportunities at every turn. However, the most popular spot to take photos is the hotel's indoor garden (specifically the floral carousel!) which is vibrant with color!
24 || Cafe Lola
Cafe Lola is another option for lovers of anything and everything PINK and FLORAL. Not only is the cafe itself aesthetically pleasing enough for an iconic Instagram photo, but the coffee cups are also pink and irresistible. It's like they're practically begging you to take a photo of your latest caffeinated beverage!
25 || The Shops in Caesar's Palace
This also doesn't often pop up in lists of Instagrammable places in Las Vegas, and I just don't get it! The interior of Caesar's Palace is a treasure trove of underutilized photo opportunities.
There is beautiful Greek-inspired interior design including fountains, detailing, stonework, statues, etc. and a wealth of high-end, luxury fashion brands with beautiful stores and entry ways. These all would make for amazing backdrops for your next Insta-post.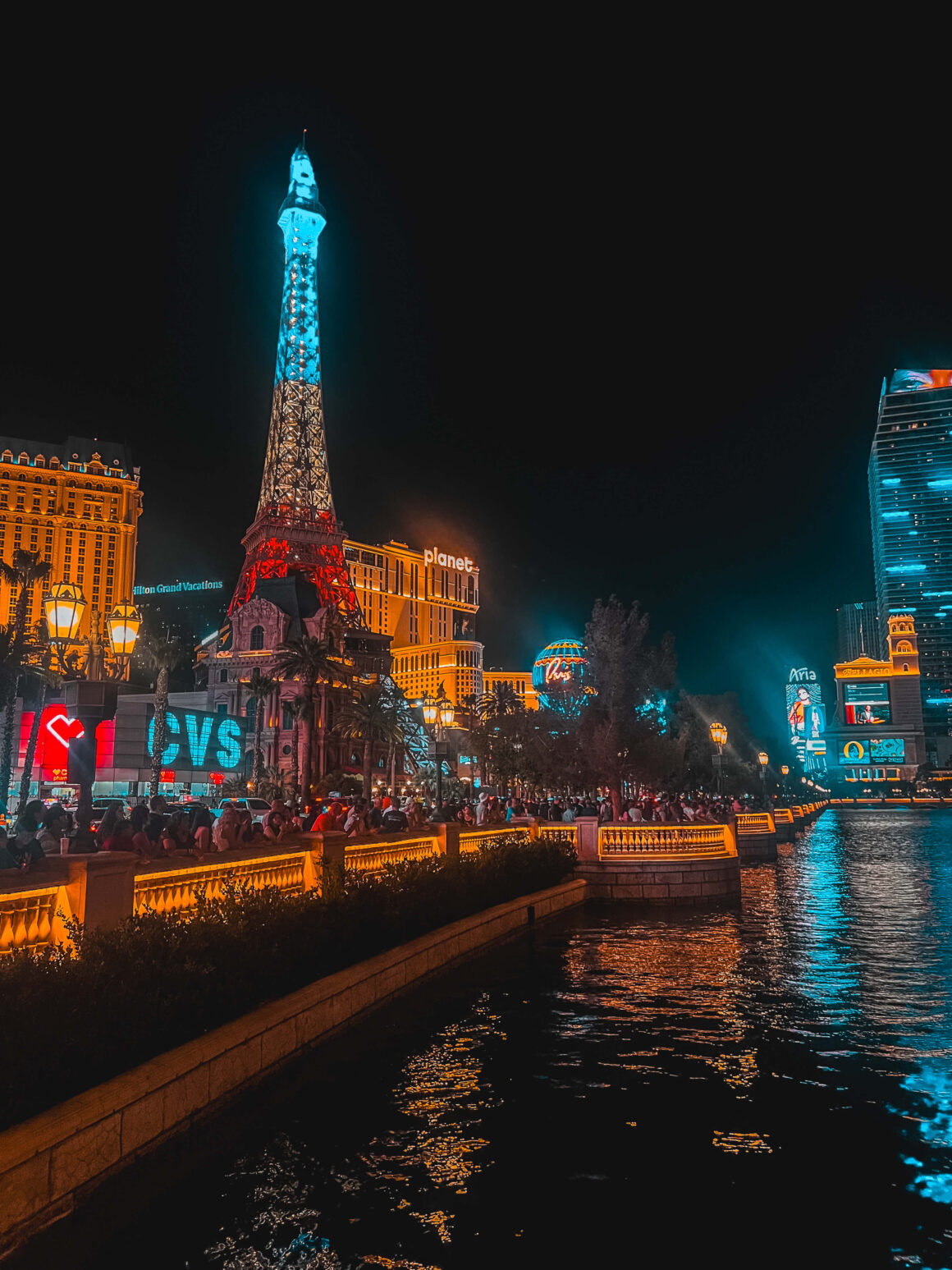 And these are the 25 most Instagrammable places in Las Vegas, Nevada!
Las Vegas is a treasure trove of photo-worthy locations that cater to every aesthetic and interest. From the iconic Strip to the luxurious beauty of the Bellagio, the city offers a diverse range of backdrops for striking Instagram-worthy shots.
Have you shared photos from any of these photos on your social media? If you want your Instagram-photo featured for any of the locations listed above, make sure to comment below or get in touch! You can also tag my instagram [@ericka.rheanne] in any of your travel photos if you wish to be featured on future travel blog posts. Your account will always be explicitly advertised so that traffic can be directed to your account!
For more information on traveling to Las Vegas or the state of Nevada, check out my collection of Nevada travel posts.
---
Other Resources for your Trip to Las Vegas: