This super simple 1-day travel guide for Ketchikan, Alaska is the perfect itinerary for either a few hours during your Alaska Cruise excursions or a short trip in an Alaska road trip. Whatever the reason, you can easily take on this charming town in a single day!
Ketchikan is a cozy, atmospheric town facing the Inside Passage, and is an extremely popular stop for cruises.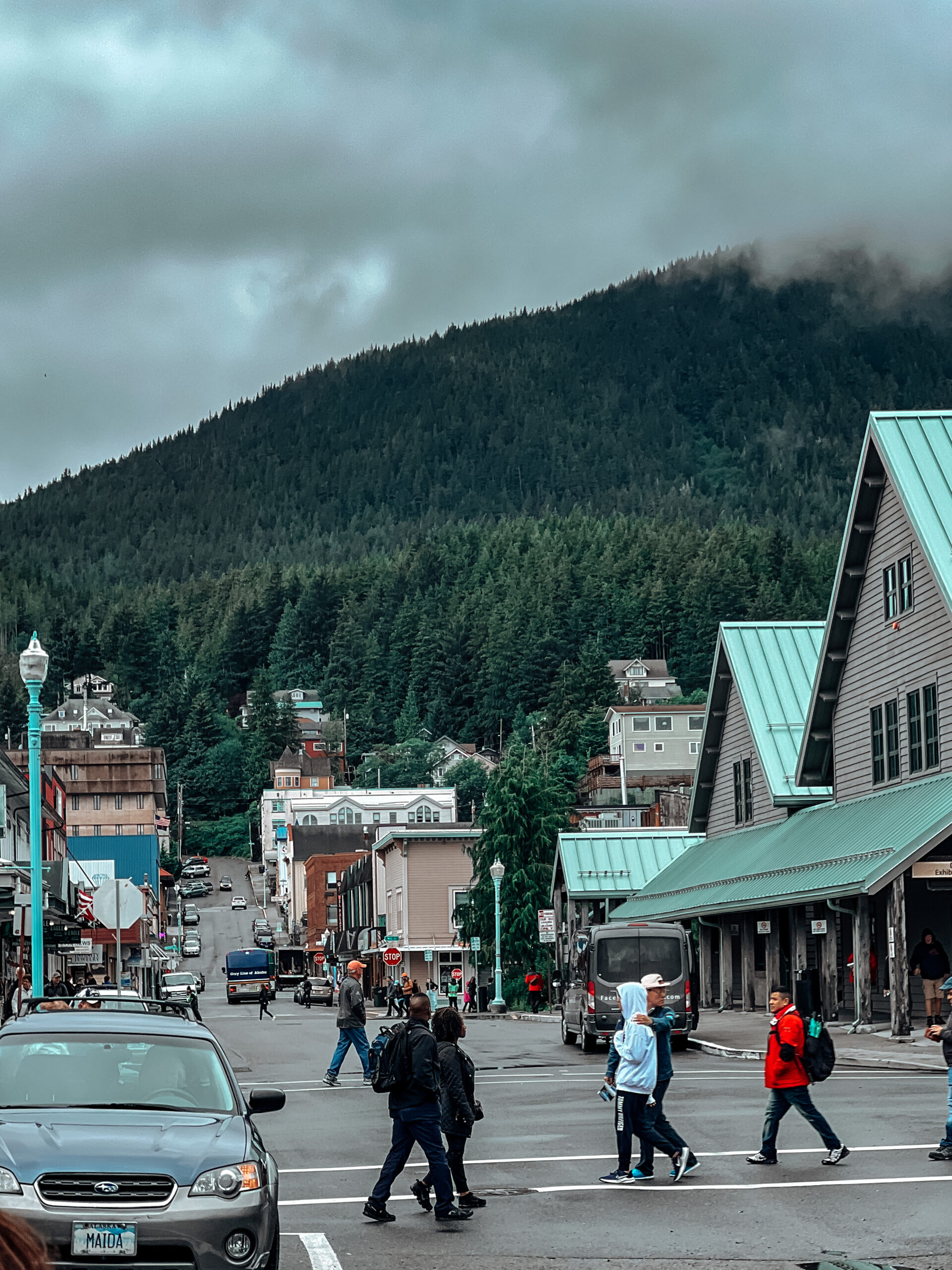 In July 2022, I embarked on a 5-day Alaskan cruise that took me through Tracy Arm Fjord, Juneau, Ketchikan, and Victoria, British Columbia!
This was my first experience of Alaska, and the views were unbelievable and absolutely breathtaking! When we exited the ship, the port dropped us right in the center of the downtown are, which is surrounded by fog-covered mountains. It was truly jaw dropping. Atmospheric is the only word I can come up with to describe it, and the photos don't even begin to do it justice.
Because our port stop was for about 4 hours, we had to cram a good amount of sightseeing and Ketchikan-exclusive experiences in quickly (but still give it the time and attention needed to be satisfying). Needless to say, we succeeded!
And now I have all the tips and this handy list of must-see and must-do Ketchikan attractions that you can fit into a single day!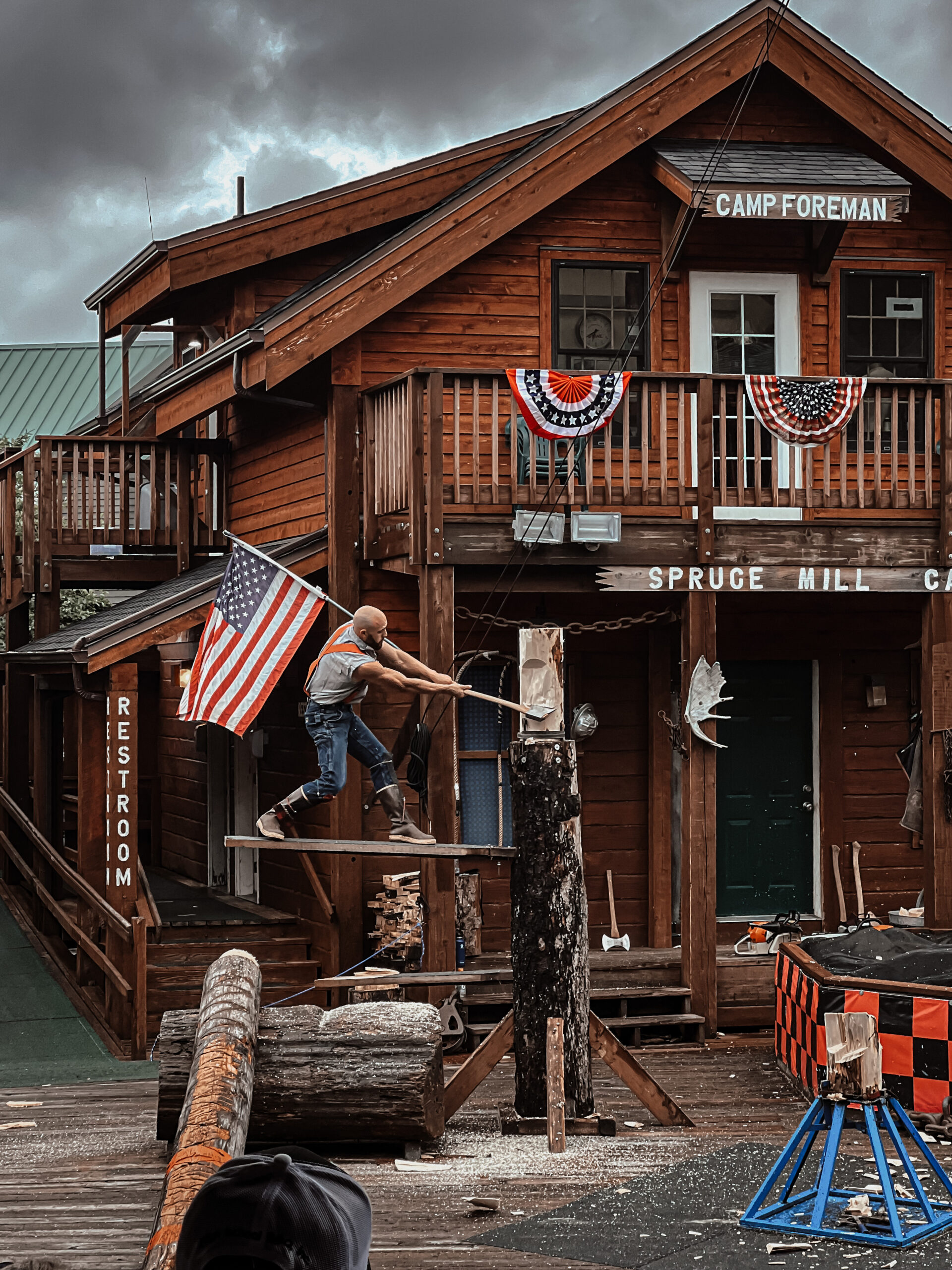 Right off the port is one of Ketchikan's most popular attractions, and should definitely belong on your itinerary: their Lumberjack Show.
The show was the right amount of nerve-racking while also being downright hilarious. It was a great time, filled with fun, and extremely entertaining. I would definitely recommend this attraction for your trip to Ketchikan.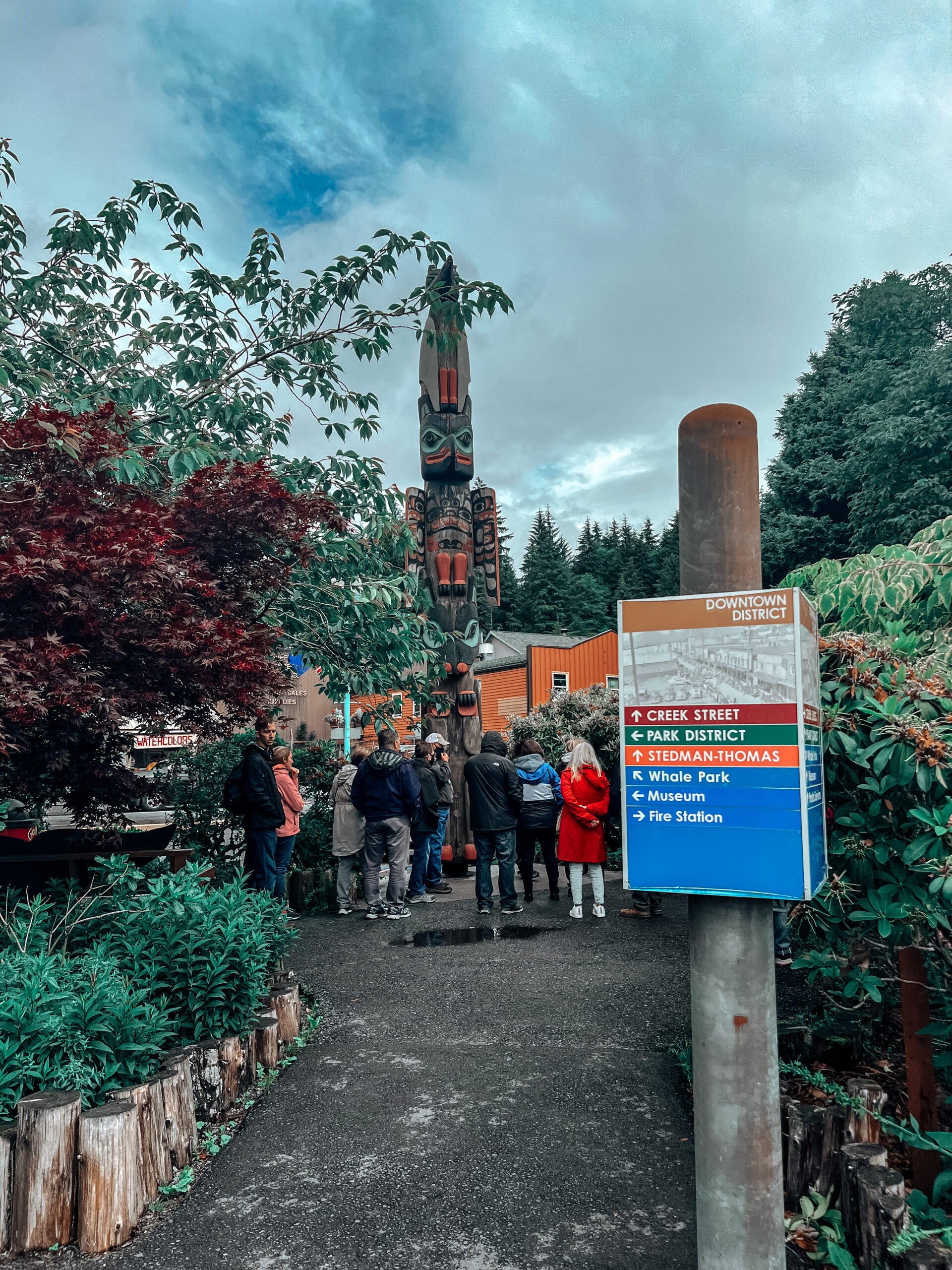 From the town, there's a 2 mile walk (or short car ride) over to the Saxman Native village.
The village is filled with totem poles, which is another of Ketchikan's popular attractions. However, if you're not up for the hike or don't want the hassle of finding your way to the village from the main area of Ketchikan, there are plenty of totems throughout the town itself that you'll find as you walk the area.
And a plus: on your walk further into the town to get to the totem poles, there are many cute boutiques, little museums, and coffee shops.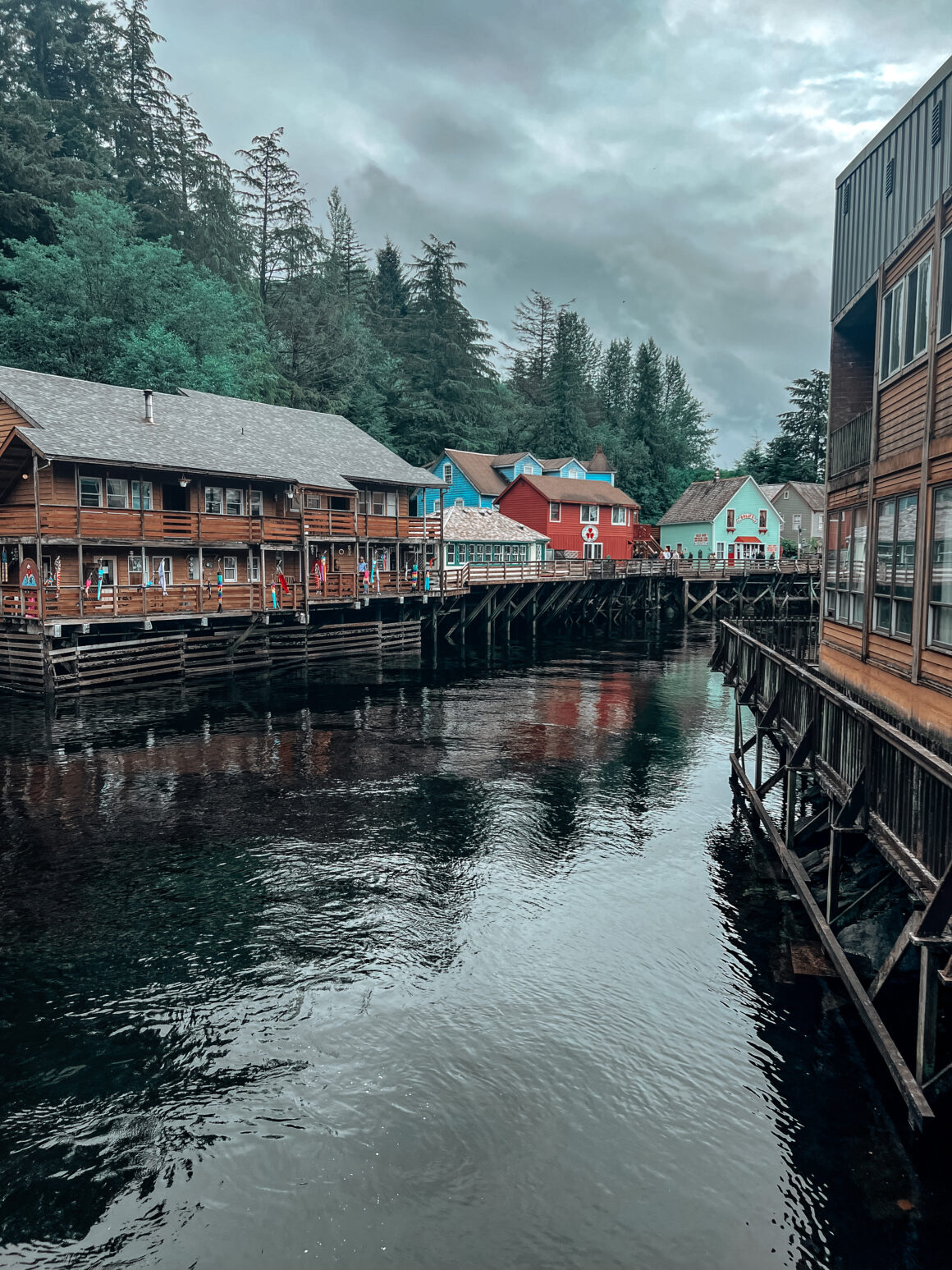 My absolute favorite part of Ketchikan was the downtown historical area, Creek Street.
All sorts of shops and boutiques are lined along both sides of Ketchikan Creek. It was very beautiful to walk along and peruse, and it NEEDS to go your 1-Day Ketchikan itinerary! I can't believe I almost up and turned around to walk back to the port before coming across this little area tucked into the far edge of the main town!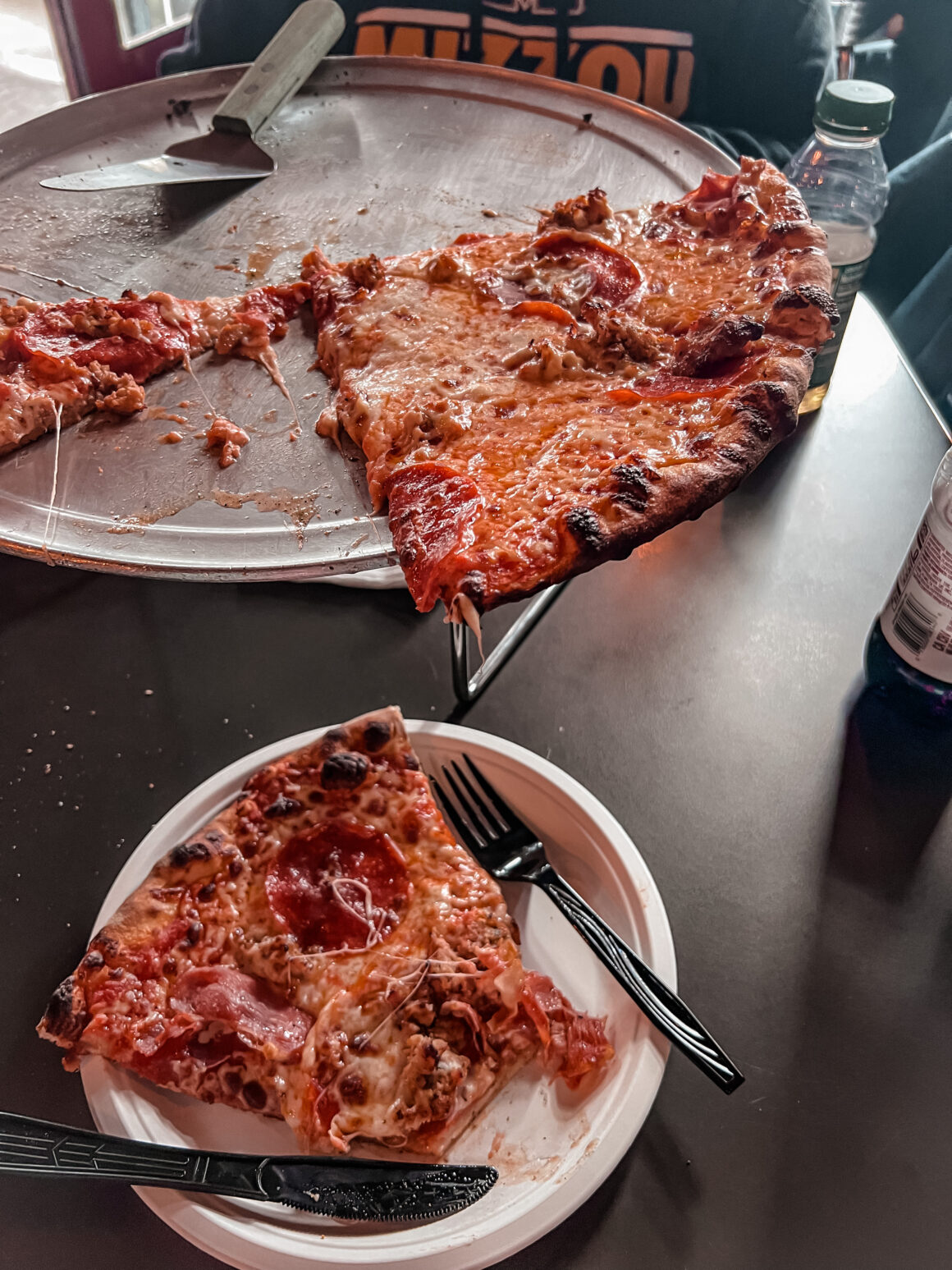 Lastly, I assume at some point in your day, you'll want to eat and shop for souvenirs.
Right off the port, there is a large shopping mall area with all kinds of souvenirs, but also ice cream and gas station drinks and snacks. Also connected to this building is Fat Stan's Sports Bar and Pizzeria which I tried and totally recommend to anyone visiting Ketchikan! YUM!
And there you have it, a super simple 1 day travel guide for Ketchikan, Alaska! With this, you can make the most of your limited time in this beautiful town.