Edinburgh is a fascinating city renowned for its stunning beauty and Gothic architecture, which is evident in the city's historic buildings, narrow cobblestone streets, and majestic landmarks such as Edinburgh Castle and St Giles' Cathedral.
If you're still in the planning stages of your trip to Edinburgh, you might benefit from checking out this guide which covers everything you need to know from flights and modes of transportation to best times to visit and packing checklists.
Here is the ultimate itinerary for 5 days in Edinburgh for first time visitors!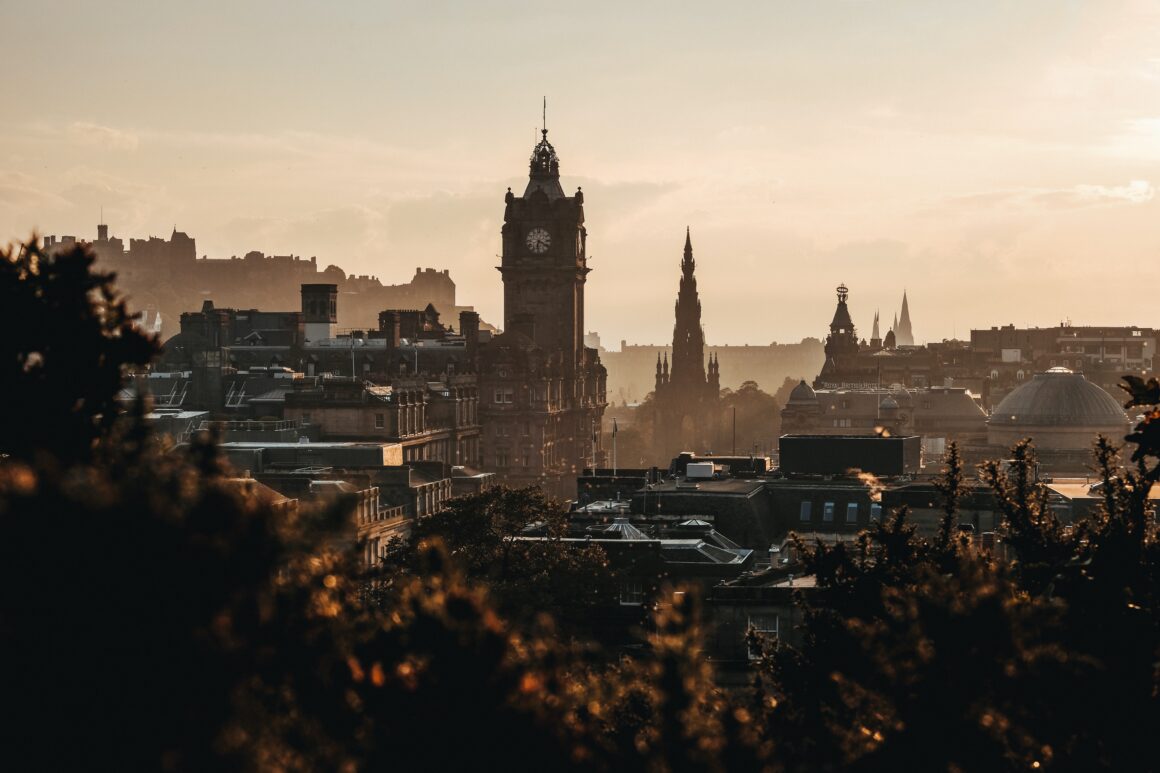 Things to Remember Before Your Visit
my post, Top Things to Consider When Planning a Trip to Edinburgh, covers all these factors in much more detail. But for the sake of this itinerary, I'll briefly list things you'll need to keep in mind for your trip.
---
Most Important
Travel Documents: Check that your passport is valid, and make sure you have all the necessary documentation to enter the United Kingdom!
Flights: Start looking to book your flight to London months ahead of your trip to capitalize on the best and lowest prices. Check out this step-by-step guide for booking flights to the UK.
Accommodation: It's great to book your accommodations as soon as possible to ensure availability and the best prices. Check out these London accommodations (for your flight to and from the UK) and these Edinburgh accommodations for your visit.
Tickets and Appointments: it's always good to do research and book early when you can.
Check Closer to Time
Transportation: Have an idea of how you'll get around the UK. That is, whether it's by rental car, public transit, or a combination of both. Read this guide to public transportation in the UK to get the most out of your experience.
Currency: Make sure you understand the currency in the UK. order currency from your personal bank a few weeks in advance AT LEAST! Exchanging currencies at airports or within the UK could get pricey.
Weather: Check the weather forecast for your travel dates and pack accordingly. Keep in mind, the weather in the UK can be quite unpredictable. It's always a good idea to bring an umbrella or rain jacket, and prepare for a bit of chill. Find out the best times to visit the UK in this article.
Phone/Communication: Prepare to pay for international data or purchase a SIM card when you arrive in the UK, or you will be unable to use the internet or contact others.
Plugs: The UK uses Type G outlet plugs. If you are traveling from a country that uses a different plug, you'll need a plug adapter and converter. I recommend this combined adaptor/converter. To learn more about why it's absolutely necessary you buy these items for your trip, read this guide to understanding UK plugs, adaptors, and converters.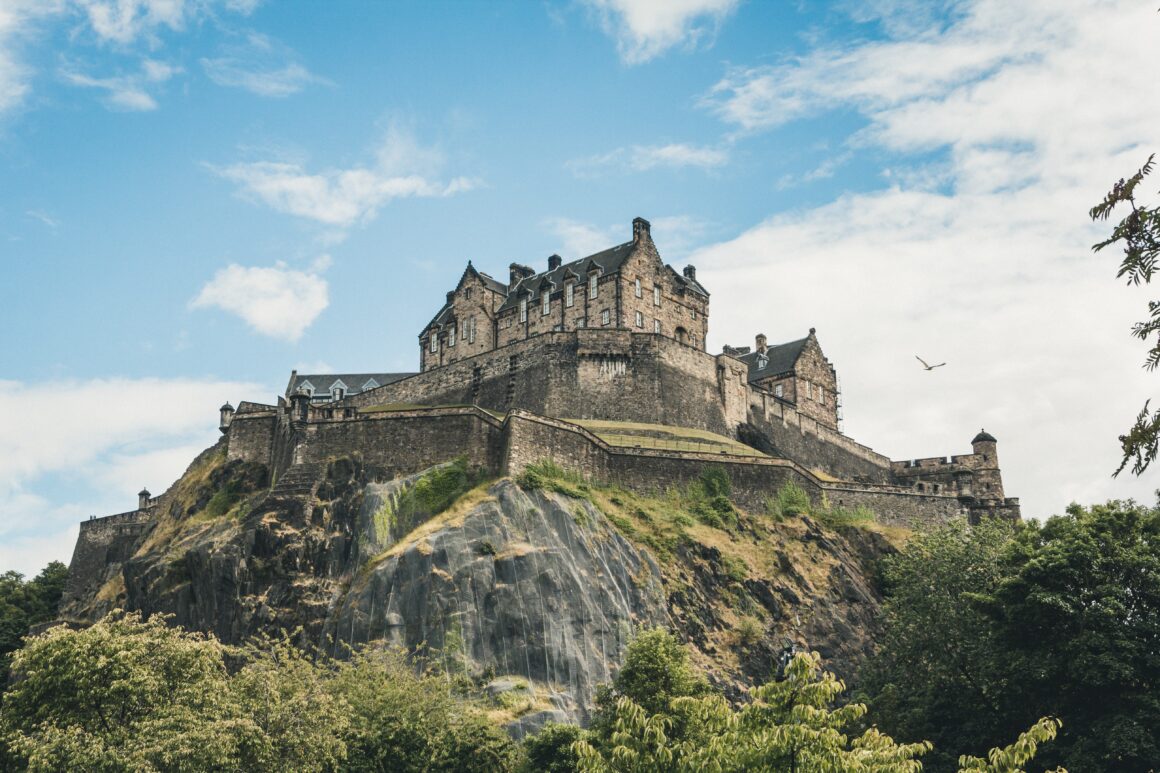 Getting to Edinburgh (If You Fly into London)
Assuming you're flying into London, the first order of business will be to plan your transportation to Edinburgh.
One of the most popular and convenient ways to travel from London to Edinburgh is by train.
The train journey takes anywhere from 4-6 hours depending on the day, and offers scenic views of the British Countryside. If you don't mind the journey, the pure beauty of the coast from South England up to South Scotland is unparalleled and well worth the ride. The cost of train tickets varies depending on the class of travel and the time of booking. Generally, the earlier you book, the cheaper tickets will be.
Tip: I prefer using Omio to book and schedule my trips by train around the UK. While Omio has both a website and an app, I highly suggest you check both. sometimes prices can vary based on if you book through the website versus the app!
Standard class tickets purchased in advance can cost around £50-£100 each way. first-class tickets can cost around £150-£200 each way.
Other options include by bus or by plane, though these can be more inconvenient in a number of ways.
Bus rides, while starting at cheap prices of £15-£20, take significantly longer at 8-9 hours. Buses are often not as comfortable as trains, either, and don't offer the same beautiful views of the coastline.
For those who prefer to fly, several airlines offer direct flights from London to Edinburgh lasting about 1 hour and costing around £50-£150 one way. However, prices can be higher during peak travel periods.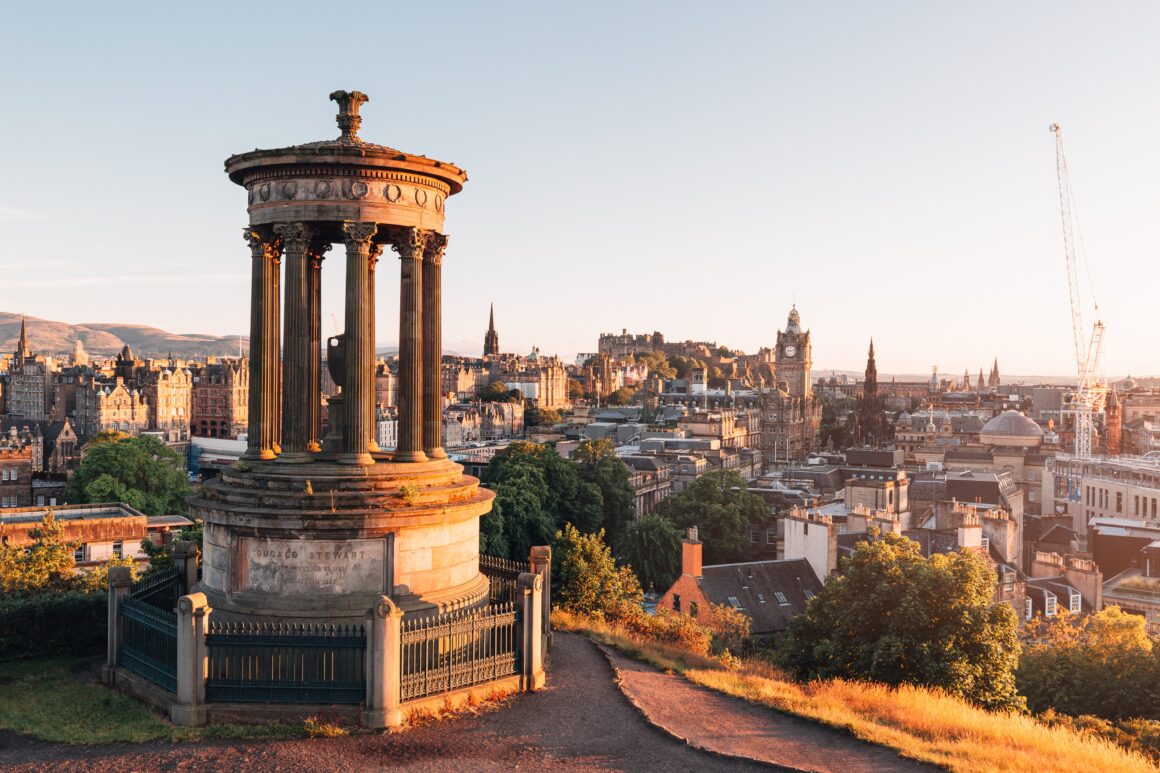 Finding Accommodations
Edinburgh is a popular tourist destination! There are plenty of options for finding accommodation, whether you prefer staying in traditional hotels or quirky Airbnbs! When it comes to chasing between Airbnb and hotels, there are pros and cons to each option.
Airbnbs can be more affordable for hotels. especially if you plan to travel with a group or plan on staying for an extended period of time. It also gives you the opportunity to stay in unique, one-of-a-kind properties that you wouldn't find in a hotel.
My Experience: When I stayed in Edinburgh, I travelled with three other women. We rented a two bedroom, three bed Airbnb for the weekend. It was super affordable at about 55USD a night, and the atmosphere the place gave off was immaculate! Plus, it was right down the street from Edinburgh Castle!
Our group stayed at this Airbnb on Glen Street, and I wholeheartedly recommend this quaint, cosy 2 bedroom flat!
Other Airbnb options include this modern apartment near the iconic Calton Hill for $268USD per night, or this stunning Victorian apartment in Bruntsfield for $158USD per night! For hotel options in Edinburgh, check out this post.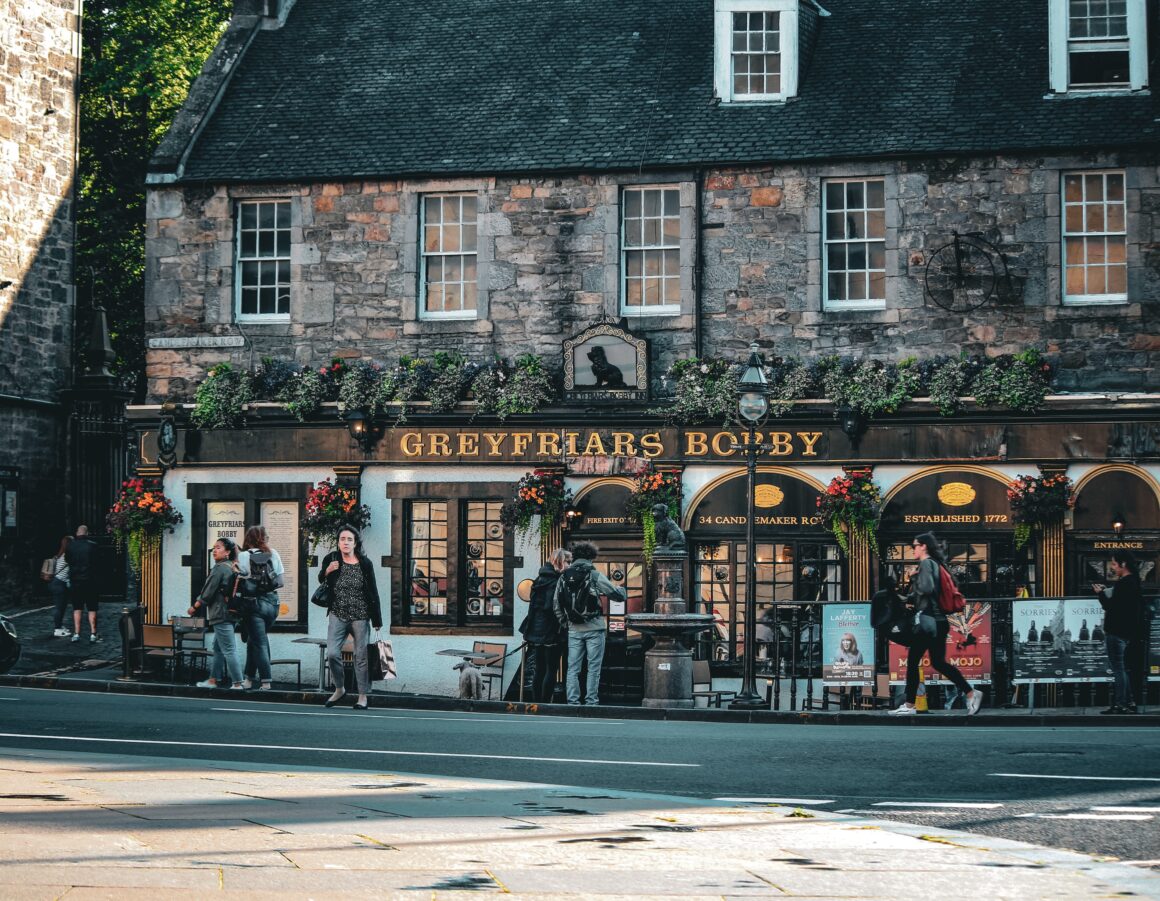 Day 1: Arrival and Evening Strolls
Upon arriving in Edinburgh, you can settle into your accommodation and start your journey by exploring some of the Old Town, a UNESCO World Heritage Site.
As the train will have taken half your day, grab dinner at The Doric followed by a visit to Greyfriar's Kirkyard.
Greyfriar's Kirkyard is a very old, historical cemetery in Edinburgh. Many famous residents of the city are buried here. Additionally, if you happen to be a Harry Potter fan, then this cemetery and its surrounding sights are a must-see! Hidden amongst the headstones, you might notice some familiar names such as Anne Potter, William McGonagall, and Thomas Riddell. Indeed, J.K. Rowling took inspiration from these headstones for many character names present throughout the Harry Potter series.
Nearby this area is also The Elephant House, which is where J.K. Rowling sat to write many of the early Harry Potter novels.
Sadly, when I visited, the location had been closed down due to a fire. But they are hard at work on renovations and should be back open soon!
You can end your night at Frankenstein, a gothic, 3-story, Frankenstein-themed bar located in a 150 year old gothic church on George IV Bridge.
This pub is a popular tourist destination along the Royal Mile, with horror themed decorations, monster shows, flashing lights, and the original black and white Frankenstein movies played on large screens above the bar! Definitely the place to go if you want to capitalize on the gothic feel of Edinburgh!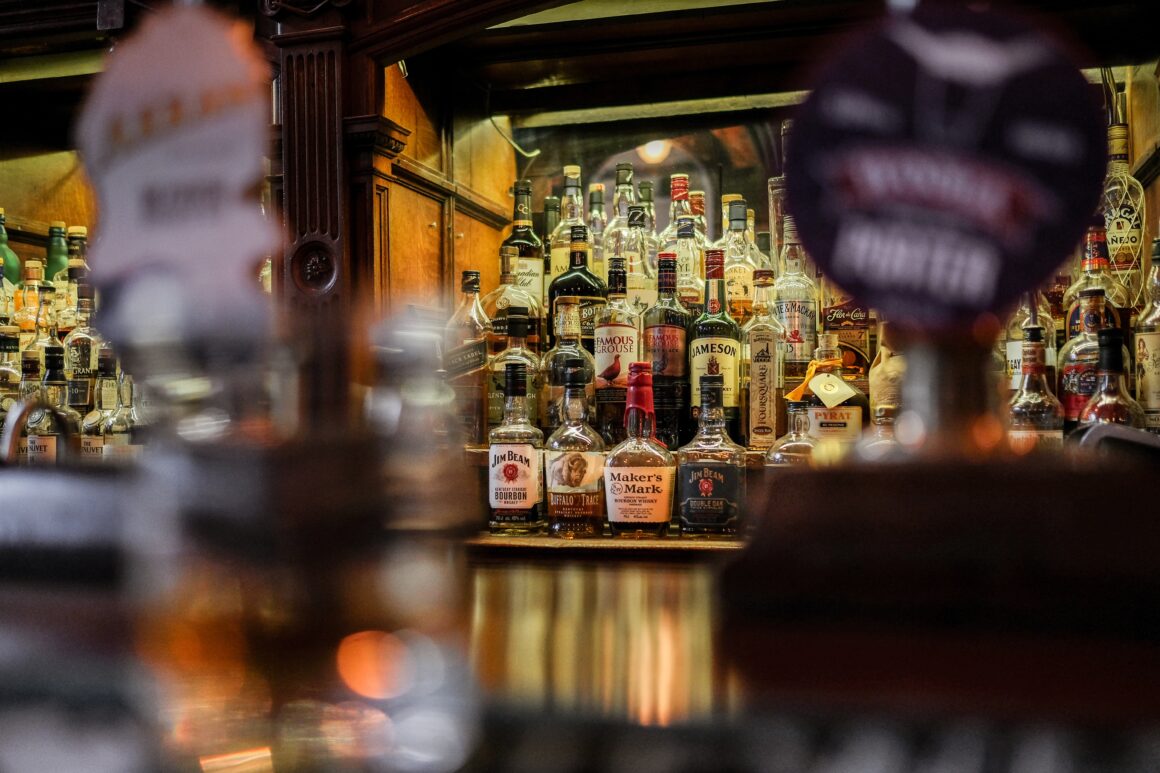 Day 2: Exploring Old Town and Edinburgh Castle
As soon as you see the massive Edinburgh Castle, looming from up above as you traverse the winding roads of the town down below, you will be overcome with the need to see the inside. Start your day by leaning into this urge, because you will not be disappointed! And definitely check out these tips for visiting Edinburgh Castle prior to your visit!
Buy a ticket online here, to secure your place for a scheduled time, and then head inside and explore these massive grounds.
Adult tickets cost £17.50, and child tickets cost £10.50. See its prisons, the throne room, St. Margaret's Chapel, the Scottish Crown Jewels, the state rooms, and even the very room where Mary Queen of Scots gave birth to James VI, the future king!
Follow up the castle by taking a stroll along the Royal Mile, a historic street that connects Edinburgh Castle and the Palace of Holyroodhouse.
The street is lined with museums, shops, and cafes, making it the perfect place to explore. It's also often the place of wonderful highland music, with many experienced bagpipe players lining the streets. One thing you must do is stop by one of the dozens of whisky shops along the mile and taste original Scotch Whisky.
End your day with a relaxing dinner at The Witchery by the Castle, a historic restaurant located just steps from the castle. The restaurant's romantic ambiance and delicious Scottish cuisine make it a popular spot for special occasions.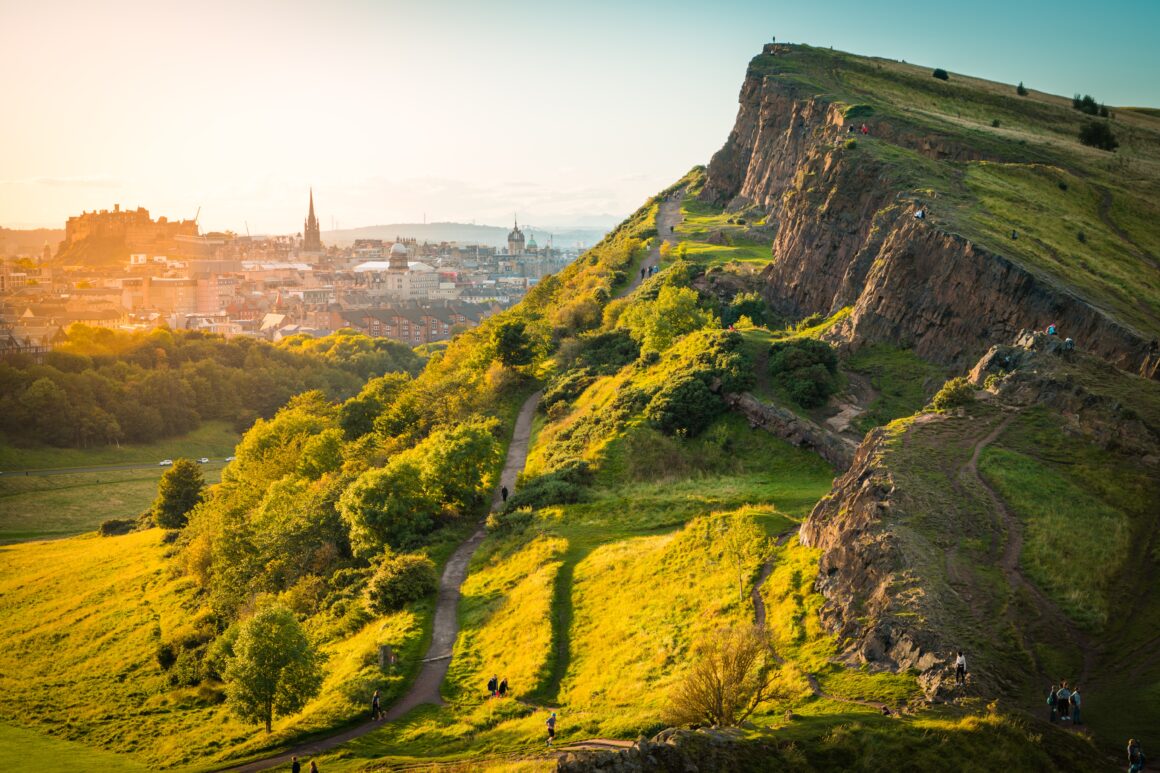 Day 3: Arthur's Seat and Holyroodhouse
This is by far my all-time-favorite activity from Edinburgh, and something I recommend to everyone planning a trip to Edinburgh. If you are in a position to exert yourself physically, hiking Arthur's Seat is a non-negotiable, must-see/must-do. In hiking this ancient volcano located in Holyrood Park, you will see all the sights, and Scotland's natural beauty, from far above!
Back at the base of Arthur's Seat is Holyroodhouse.
Even if you don't pay for entrance, the Palace of Holyroodhouse is still beautiful to see from the outside. It's also a lovely stop between the Royal Mile and the entrance to Holyrood Park / Arthur's Seat trail.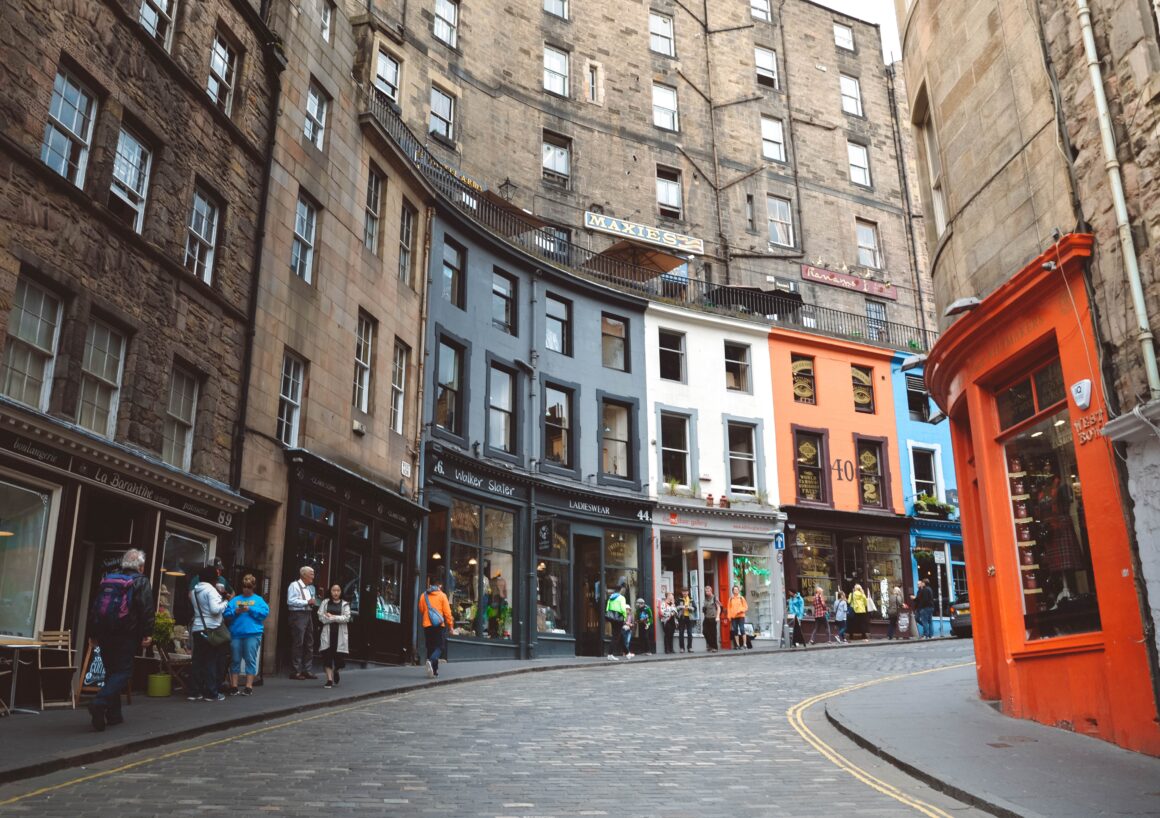 Day 4: Calton Hill and Victoria Street
Take a leisurely stroll through Princes Street Gardens, a beautiful public park that offers stunning views of Edinburgh Castle and the Old Town. From there, make your way to Calton Hill, one of Edinburgh's most iconic landmarks. Climb to the top of Calton Hill for panoramic views of the city. Be sure to visit the National Monument, a large, unfinished replica of the Parthenon in Athens.
Head down the hill and walk to Victoria Street, a charming street filled with colorful buildings, quirky shops, and great restaurants. Stop for lunch at The Devil's Advocate, a cozy bar and restaurant that serves delicious Scottish cuisine.
Victoria Street is also a must see location for Harry Potter fans, as it was supposedly a huge inspiration for J.K. Rowling's Diagon Alley.
Enjoy John Kay's Shop, a quaint bookstore at the top of Victoria Street, painted green. Make sure to note nearby a sign on the wall that claims itself the inspiration for Diagon Alley. It's hypothesized that the bookstore itself might be the original Flourish & Blotts!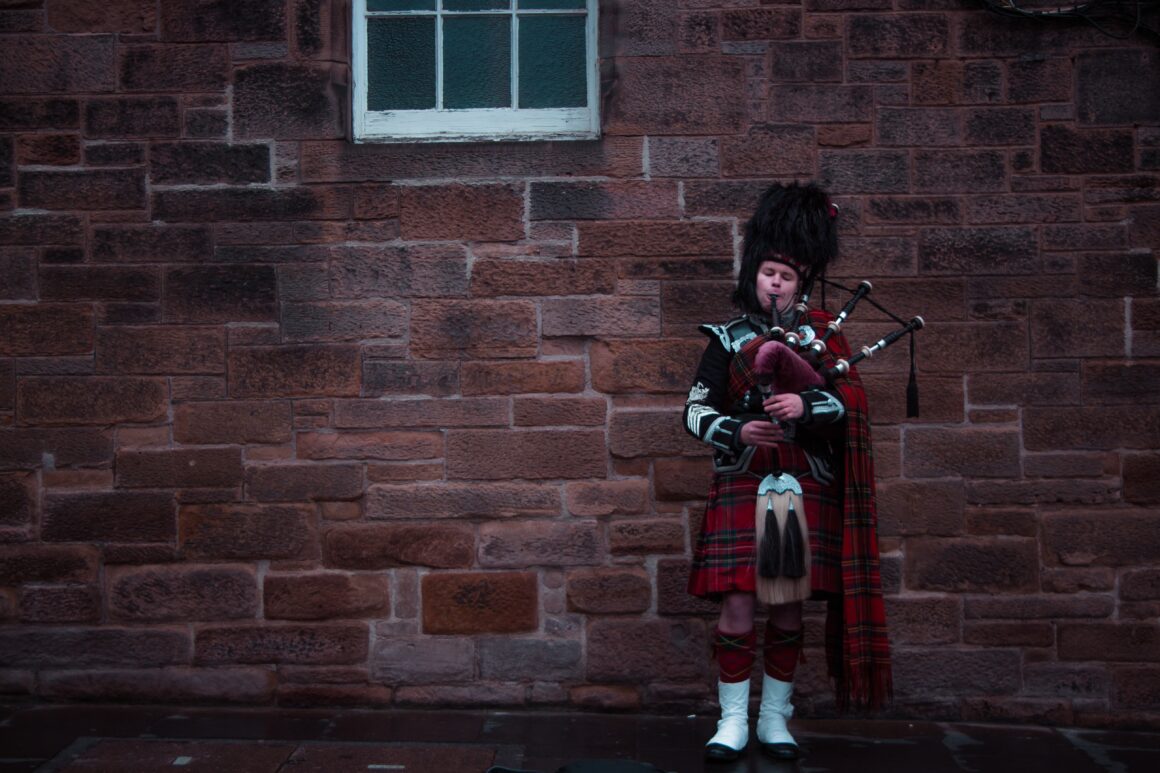 Day 5: Soak it All In and Revisit Areas of Interest
Take this one last day to soak it all in. Perhaps listen to bagpipes along the Royal Mile as you visit St. Giles Cathedral. Enjoy one last supper along the mile, such as La Piazza. This cozy Italian restaurant is located on the Royal Mile and serves classic Italian dishes such as pasta, pizza, and seafood. Try the spaghetti carbonara or the lasagna al forno.
In Conclusion
Edinburgh is a vibrant city that offers something for everyone. From historic landmarks to world-class cuisine, the city is the perfect destination for a five-day trip. By following this itinerary, you'll be able to experience some of the best things the city has to offer. Whether you're a first-time visitor or a seasoned traveler, Edinburgh is sure to leave you with memories that will last a lifetime.