As I mentioned in my previous Oxford guide to spending one day in the city, Oxford is often super underrated by travelers! The city is more than just the basecamp for Oxford University. While you can have a great time exploring the city in just a day, I believe the more time the better.
That being said, here is my itinerary to ensure you make the most of 3 days in Oxford, England!
Affiliate links are used in this post. For more about affiliate links, check out my Disclaimer Policy.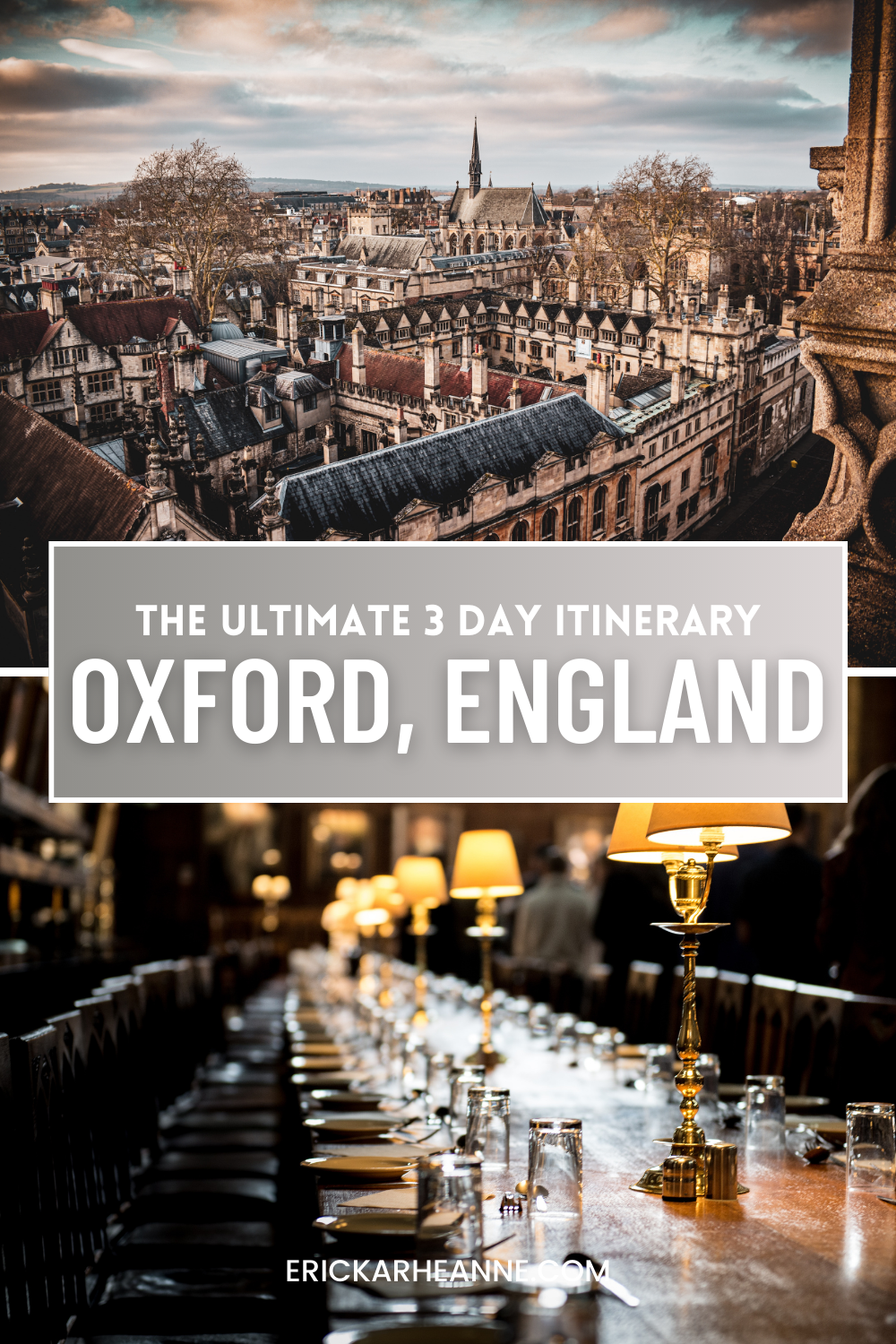 Affiliate links are used in this post. For more about affiliate links, check out my Disclaimer Policy.
Transportation: Getting to Oxford
The easiest (and most scenic) way to travel around England is by train. When I spent 5 weeks in England in the fall of 2022, I used Omio to book my trains. The train ride from London to Oxford is 1-1.5 hours and the onboard area is very spacious and comfortable. If you have a laptop or busy work to do, there are also seating areas with tables (but they're a hot commodity, so make sure you're getting on as soon as possible for your best chance at securing one!).
Round trip prices depend on where and when you're traveling, but throughout my travels to and from Oxford from London, the prices ranged $30-50 USD for round trip tickets.
Accommodation: Where to Stay in Oxford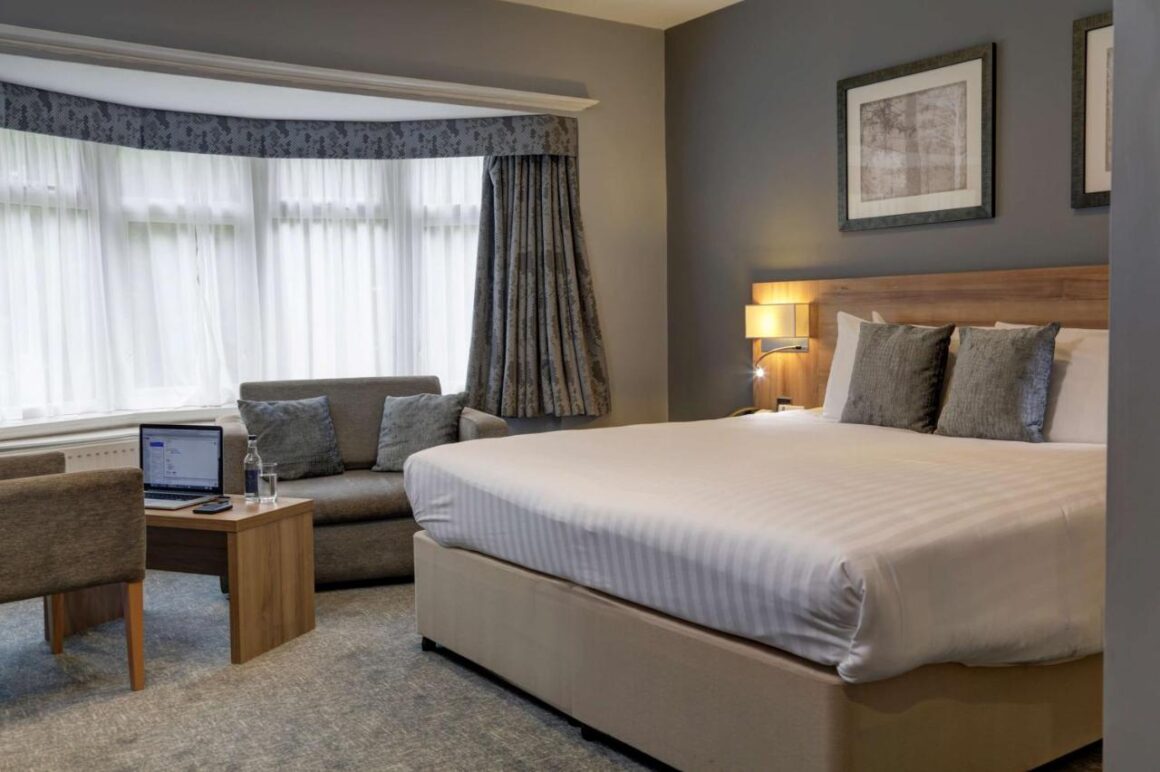 BUDGET: Linton Lodge, a BW Signature Collection Hotel
Located on a quiet residential street one mile from the center of Oxford, the Linton Lodge contains beautiful, relaxing gardens to rest and relax in. The hotel offers Free WiFi, and has a 7.8 guest satisfaction rating.
Price: from £75 a night.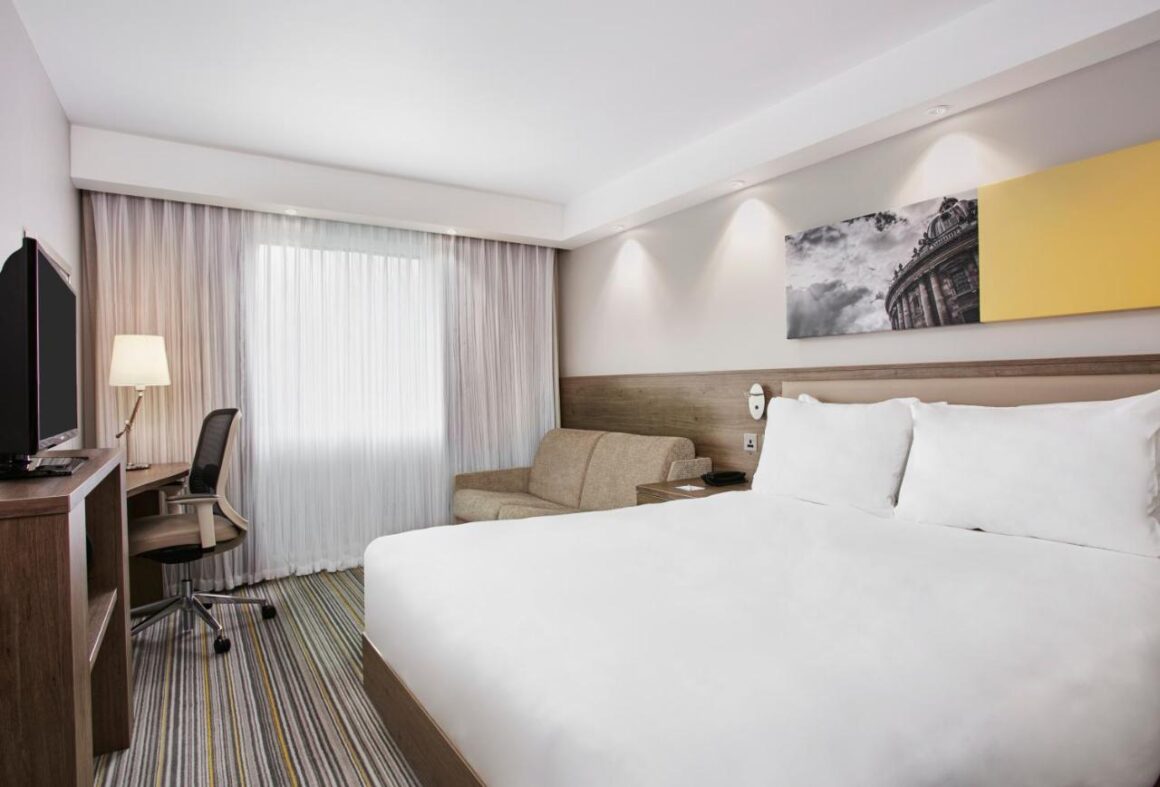 With a high 8/10 rating, the Hampton by Hilton Oxford hotel offers free parking, wifi, and continental breakfast to its guests. The hotel is centrally located for easy access to Oxford's historical areas, 5 miles from Oxford city center.
Price: from £75 a night.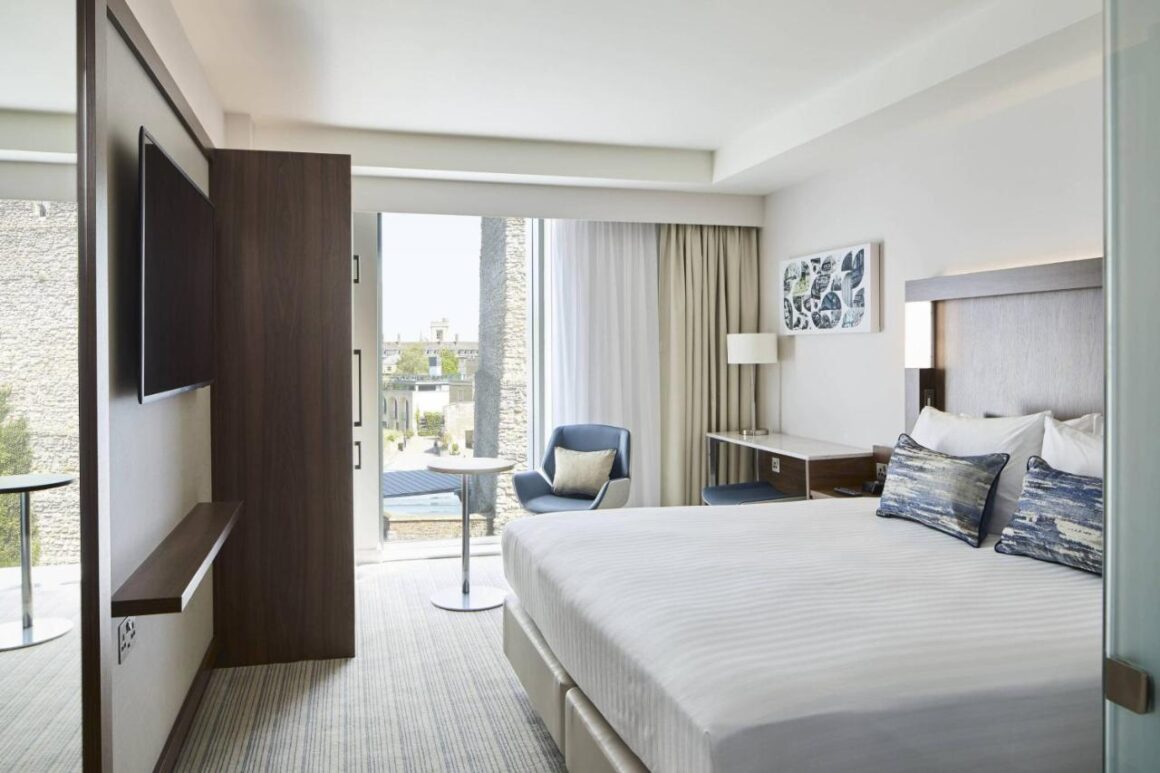 Set in the center of Oxford, this 8.4/10 rated hotel offers air conditioned rooms, free bikes, free WiFi, a terrace, and more. Courtyard is only an 11 minute walk from University of Oxford. Blenheim Palace is 10 miles away and Notley Abbey is 16 miles away.
Price: from £170 a night.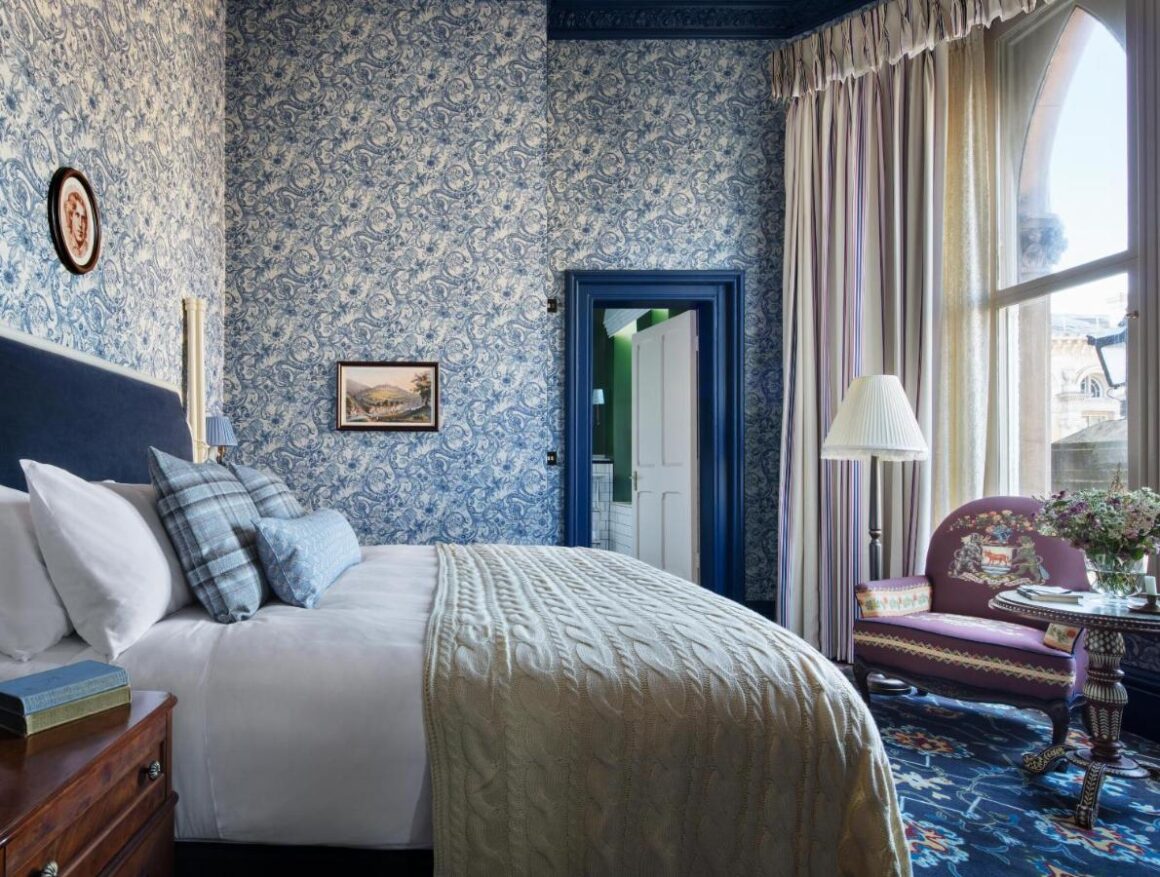 Located in the heart of Oxford, and across from the Ashmolean Museum, The Randolph Hotel is a great accommodation option for your stay in this wonderful university city. The hotel offers large bedrooms, luxurious amenities, and free WiFi.
The Randolph Hotel is located not far from The University of Oxford Colleges. The river is just a 15 minute walk away and the rail station about half a mile away! The Randolph Hotel has extremely high guest ratings, falling in at 9.6 out of 10!
Price: from £242 a night.
---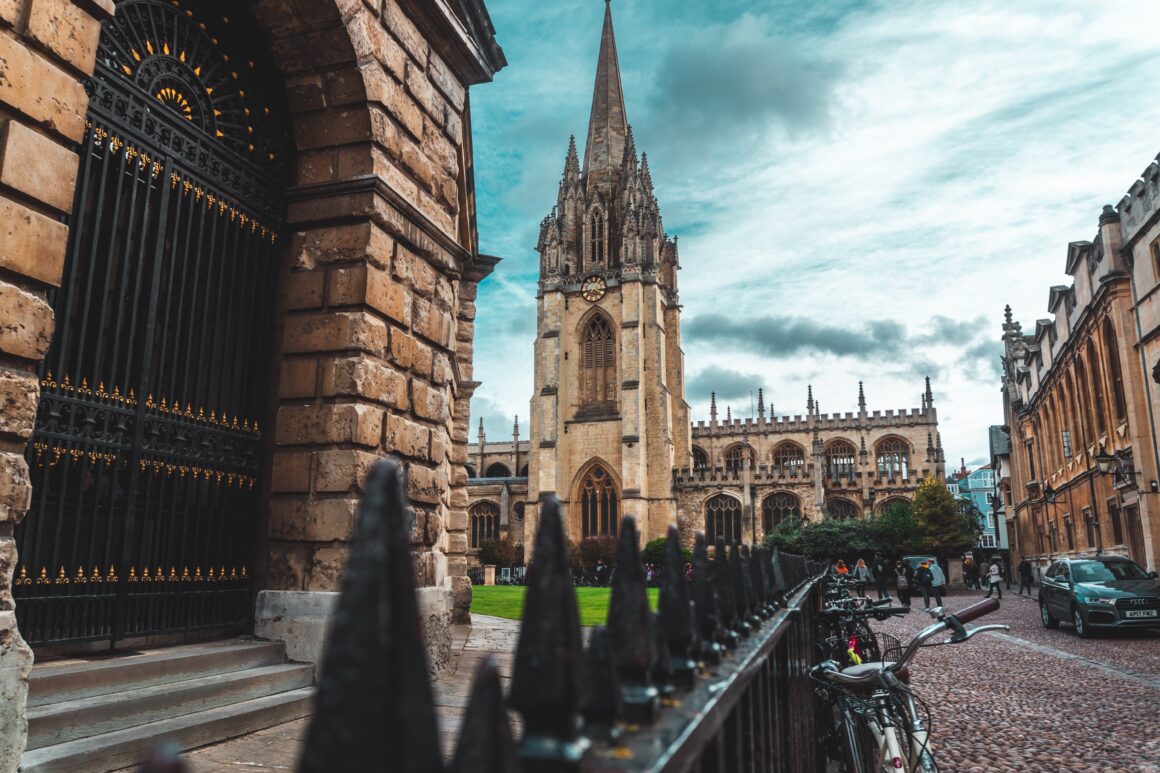 DAY ONE
Start of Day-12: Ride Train to Oxford & Settle In
Depending on your sleep preferences and your travel schedule, your start time for the day will vary. In order to get the most of your three days in Oxford, I suggest the earlier the better. For the sake of this itinerary, I've planned for as late as a noon arrival time.
Once you arrive, settle into your accommodations and refresh if needed! You've got a busy few days ahead of you! (Plus, if you've got a bit of luggage, you're gonna be tired after lugging it across the uneven, but beautiful, cobblestone streets).
If you're looking for unique places or cheaper stays than hotels, Airbnb is a great service to use.
12:30-2pm: Lunch at Bbuona Pinsa Bar
Bbuona Pensa Bar is the #1 restaurant in Oxford according to Oxford Mail and one of the top restaurants for the area on TripAdvisor. As a traveler who tried this restaurant while in Oxford, I do attest to its quality, YUM!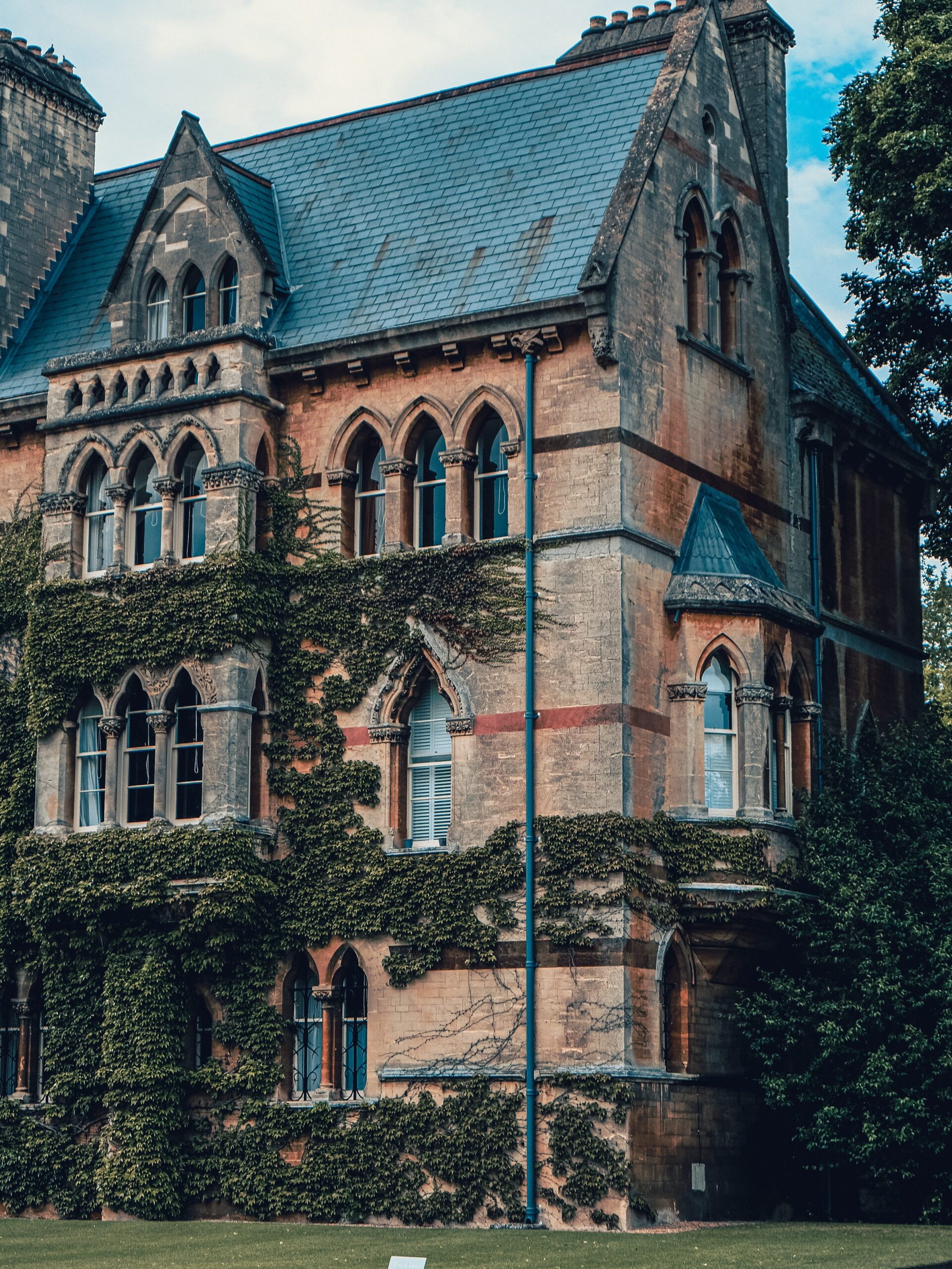 2:30-5pm: Visit the Ashmolean Museum
According to their website, The Ashmolean Museum is "the University of Oxford's museum of art and archaeology founded in 1683." The museum happens to be one of my personal favorite attractions in the city because of its amazing art galleries (ft. Vincent Van Gogh), Egyptian mummies, and other Greek, Roman, and Indian artifacts! Oh, and did I mention? The museum is open every day, and admission is FREE!
5:30-7pm: Dinner at Three Goats Heads Pub
Literally a hole in the ground, Three Goats Heads pub is a delicious stop for dinner in Oxford. There is also cozy outdoor seating and dining options if the weather is permitting! The food is fantastic (I recommend the grilled chicken sandwich, but its also accommodating to many diet restrictions/preferences).
7:30-9pm: Stroll the Main Street
The Oxford area was safe enough during the nights, especially in the main areas, that during my 5 weeks in the city, I felt completely comfortable walking around at any hour of the night alone, as a female! Another thing you can do while walking the main area is visit some of the more popular pubs along this stretch, like The King's Arms.
The King's Arms: One of Oxford's most popular pubs, especially among university students and alumni. This famous pub is the oldest in Oxford, built in 1607 and still standing in its original form!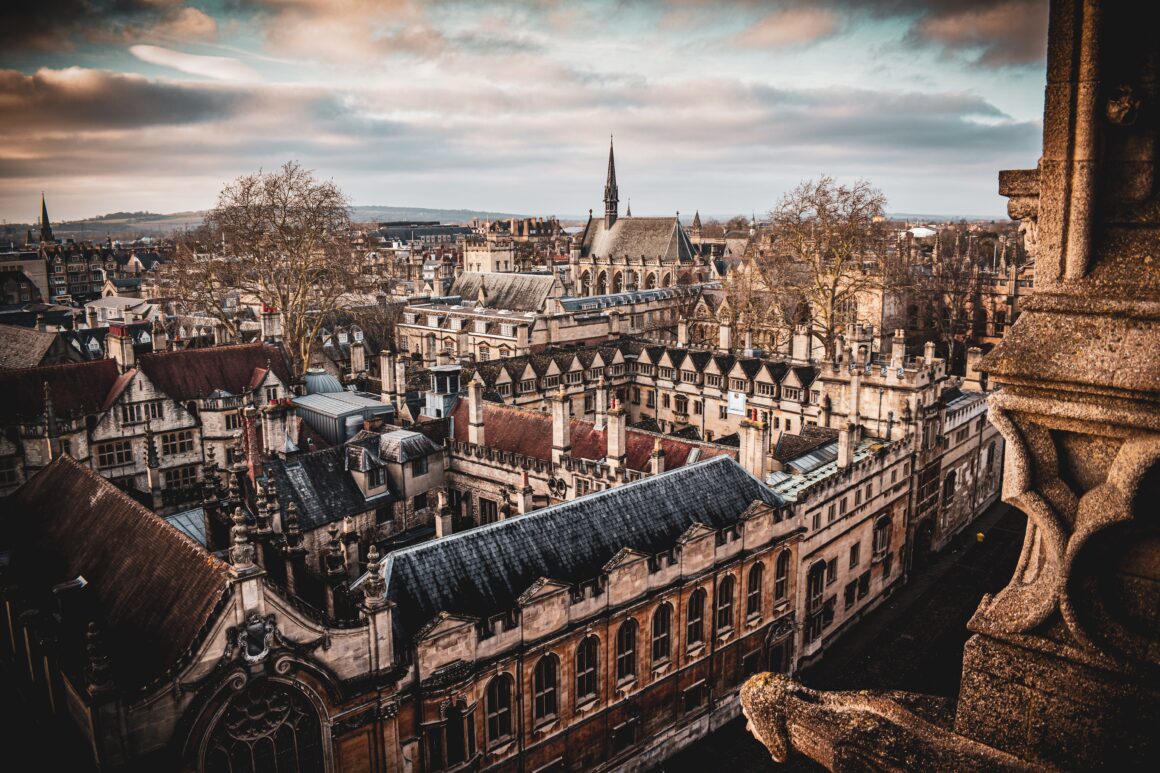 DAY TWO
9:30am-11am: Brunch at Vaults and Garden
I was obsessed with Vaults & Garden during my weeks in Oxford. I came here for more than a few breakfasts! It also helps that the outdoor seating is directly facing Radcliffe Camera, which gives you a beautiful view to start your morning!
12-2:30pm: Tour the Bodleian Libraries
The Bodleian is absolutely massive with a breathtaking collection of books, both new and very, very… very old. And BONUS! If you're a Harry Potter fan, Bodleian tours also take you through parts of the library used for the "Restricted Section" of the library in the Harry Potter films as well as the Divinity School, which was used as the Hogwarts infirmary and for various scenes throughout the Goblet of Fire film.
TIP: Reserve tickets online in advance! Tours book up quickly, and you don't want to wait just to not be able to make it in during your few days in Oxford!
3-3:30pm: Grab a Snack at G&D Café
G&D is absolutely delicious, and a local Oxford eat. G&D specializes in bagels and ice cream, perfect for either type of snacker. (I recommend the pizza bagel)
4-5pm: Stroll through Oxford Botanic Garden
The beauty of Oxford Botanic Garden is definitely worth the walk. Fun fact: it's actually Britain's oldest botanic garden, founded in 1621!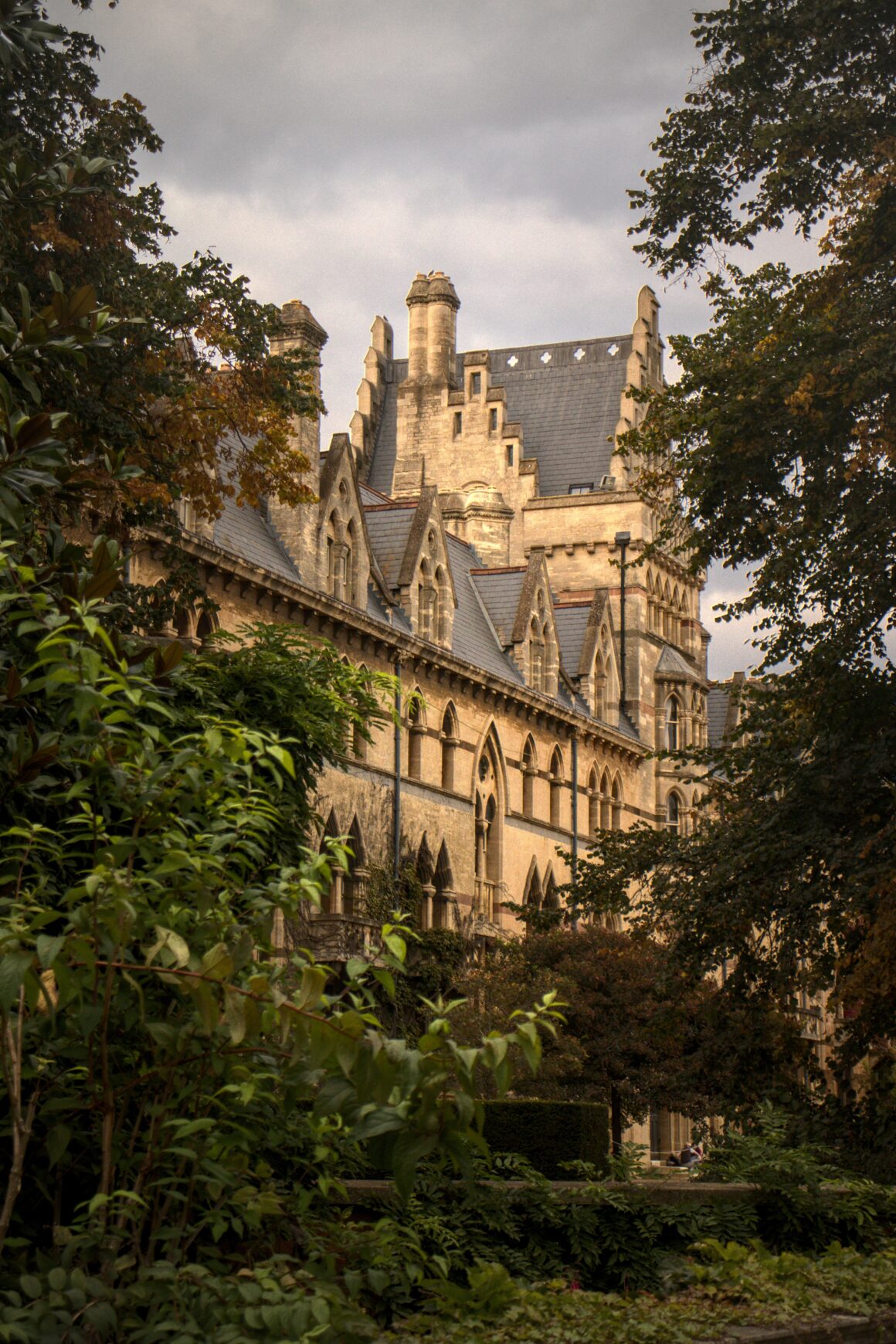 5:30-8pm: Picnic & Sunset at South Park
This part of the itinerary depends on the weather, the time of year your visit takes place, and the time the sun sets during your stay. However, the view of Oxford's skyline from South Park is literally one of the best views in Oxford. Whether you see it at sunset (highly recommend, it's absolutely stunning), or in the middle of the day… Seeing it in the first place is better than never seeing it at all!
8:30-End of Day: Explore More of Oxford's Nightlife & Pubs
Oxford's nightlife is whatever you want it to be, depending on where you go! There are so many great pubs to check out, from well known ones to hidden gems.
The Port Mahon: This Oxford pub is usually filled with locals. The Port Mahon features live music and cozy indoor and outdoor seating!
White Horse: When in Oxford, chances are every pub is famous! This pub dates from the 16th century, and claims to be Oxford's smallest pub. Famous for its role in the Morse series, it was also frequented by Winston Churchill and Bill Clinton.
Turf Tavern: Probably one of Oxford's most popular pubs. Turf taern is located right in the center of the action, not too far from Radcliffe Camera. You have to take a narrow alleyway hidden into a break between buildings. Then walk a fairly long trail until it opens up to a large courtyard where the bar is hidden. Though you're in the middle of Oxford, this pub delivers the unparalleled feeling of being in a completely different world. This being said, it's no wonder why this is a hotspot for celebrities. And why this tavern was also frequented by the Harry Potter cast and staff throughout their time filming in Oxford!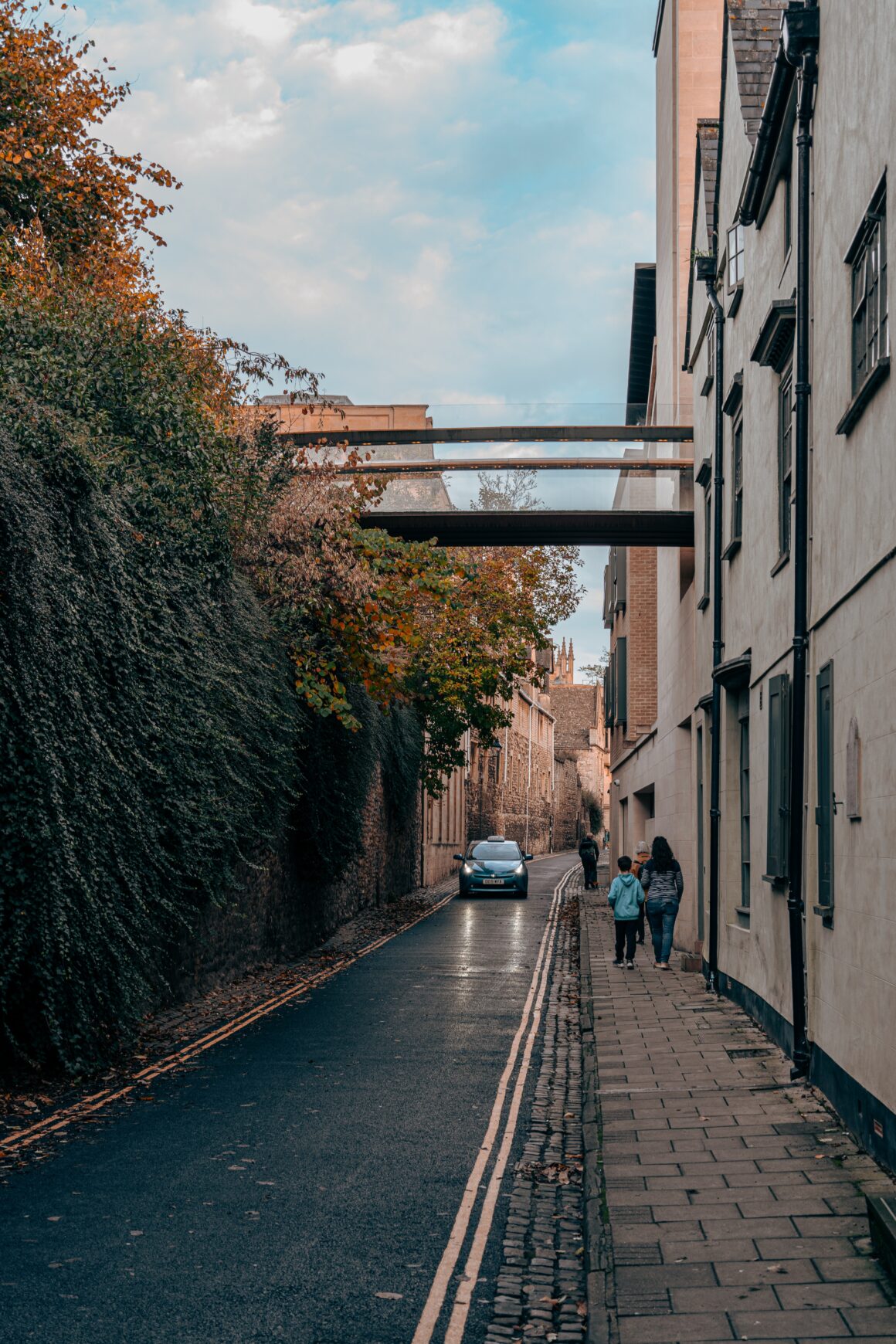 DAY THREE
10-11:30am: Grab Brunch at The Rickety Press
This restaurant not only serves tasty breakfast food, but is dark and cozy, and is filled with bookshelves. If that's not heaven to you, I don't know what is.
12-2pm: Go Punting Along the River
Both locals and tourists love punting down Oxford's rivers on a day of great weather! What is punting you may ask? Punts are flat-bottomed boats and punting is where you use a long stick to push the bottom of the river and propel the boat forward. It's an iconic Oxford pastime, which obviously means it's a must-do when visiting the city!
2:30-5pm: Take a Harry Potter Tour or Tour the University of Oxford Colleges
If you're a Harry Potter fan, there are a massive number of sites from the films that are actually based in Oxford. And because some of these sights are located in restricted areas, or in actual Oxford colleges, you need to book an official tour to gain access!
If you're not a Harry Potter fan, the University of Oxford colleges are all unique and beautiful in their own ways. So it's definitely worth touring the colleges if you can!
5:30-8pm: Head to the Westgate Mall for Shopping and Dinner
Westgate Oxford is a hybrid indoor/outdoor mall that's open to the elements and the street on all sides, which keeps it airy and fresh as you peruse the shops. The mall itself is massive and great for shopping. The uppermost floor has so many great restaurants you can choose from. I totally recommend Mowgli Street Food to any fans of Indian Cuisine.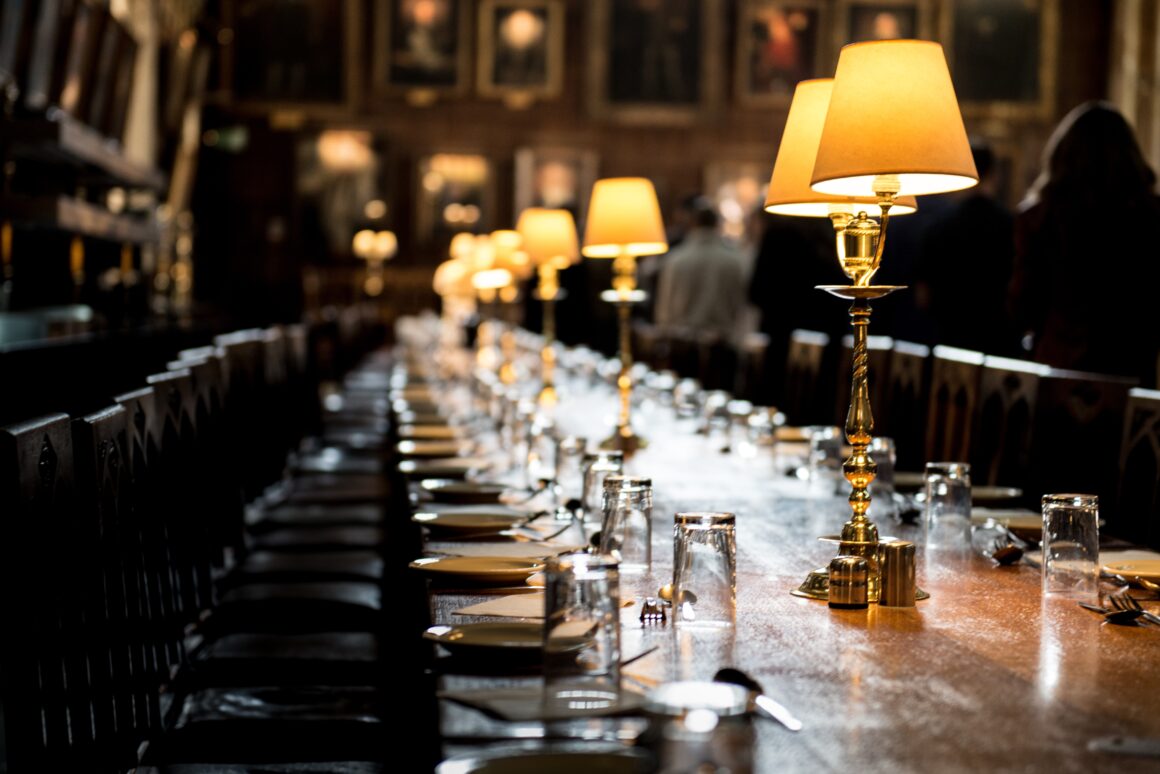 In Conclusion
Oxford may just seem like a university town at first, but the city has so much to offer. From stunning architecture to amazing skyline views… From delicious food to its wealth of Harry Potter filming locations… Oxford is definitely worth your time.
If 3 days in Oxford seems to much for you, or if you only have time for a single day, check out my 1 Day Oxford Itinerary.